by Frank Vespe
From high takeouts to crumbling facilities to sometimes indifferent rules enforcement to… well, the list goes on.  Horse racing's flaws are, it sometimes seems, legion.
For all that, there's one place where the sport excels: rallying support for its own.
Saturday at Laurel Park, a big crowd turned out to watch and wager on the Grade 2 Barbara Fritchie and a pair of supporting stakes — and to bid on silent auction items in a fundraiser benefiting Fray Martinez, the young rider stricken with cancer, and the Leukemia and Lymphoma Society.  They also were able to register to be bone marrow donors via There Goes My Hero, which seeks to restore hope to victims of the blood cancers and their families.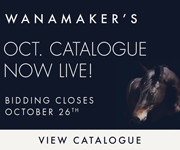 Among the items: autographed saddles and boots, a set of The Jim Stable's silks autographed by King Leatherbury, Baltimore Orioles' items, and much more.
One item you couldn't have won, however: the boxing gloves autographed by Sugar Ray Leonard.  My wife Erin was determined to win those.
All told, it was a great event and raised in excess of $10,000 for Fray, his family, and the Leukemia and Lymphoma Society.  Then Xpressbet kicked in another several thousand dollars from wagering on the company's site on Laurel Park's product that day.
And then an envelope arrived at The Racing Biz.
An anonymous reader, having learned, through several articles on our site, of Fray's plight and the efforts to help him, was moved to pitch in.
And so this reader sent a check to The Racing Biz, requesting that we deliver it to the Maryland Horsemen's Assistance Foundation to be sent on to Fray.
That check was for $10,000.
It was a little bit shocking to see such a large check made as a donation to a person the reader didn't know and had never met.  It was a little bit exciting too, and a little bit humbling that our story had found the right reader on the right day.
Also a little nerve-wracking: you sure don't want to lose that check.
Fortunately, we didn't, and the check was delivered without incident, providing a significant boost to the funds that Fray and his family will receive as he fights his way back.
And racing had, once again, pulled together to help a comrade in need.
To everyone who bid, bought, donated, or was swabbed, and especially to our anonymous reader, many thanks.  You've shown us all what generosity looks like.
WEEKEND GALLERY