From a Virginia Equine Alliance release
TwinSpires, one of three Advance Deposit Wagering companies licensed to accept on line horse racing wagers in Virginia, is no longer able to do so.
At its regular monthly meeting on Wednesday, December 16th, the Virginia Racing Commission set a deadline of 5 PM Friday, December 18th, for TwinSpires to pay an outstanding total of $688,000 owed under state law to various groups, including the Virginia Equine Alliance (VEA), the Virginia Horsemen's Benevolent & Protective Association (VAHBPA), the Virginia Harness Horsemen's Association (VHHA), and the state Breeders Fund, among others. If TwinSpires did not come into full compliance by that date and time, its license in the Commonwealth to accept wagers from Virginians would be suspended immediately and not renewed for 2016.
On Friday TwinSpires advised the VRC in writing that it would not comply with the Commission's order. Shortly afterwards the Commission issued a formal written order stating TwinSpires license "is hereby suspended, effective immediately . . .[and it] shall take all appropriate steps to notify its customers . . . and provide [them] the ability to retrieve any funds held on deposit."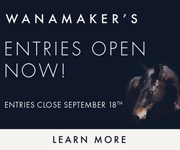 The other two ADW companies licensed in Virginia—TVG and Xpressbet– continue to operate and accept wagers on thoroughbred and standardbred races via their respective sites. Under state law a portion of each dollar wagered through these companies goes into the horsemen's purse accounts of both breeds, into the Breeders Fund, and to the VEA, whose mission is to sustain, promote and grow the native horse racing industry.
Since new legislation took effect July 1st of this year, the VEA has put on pari-mutuel thoroughbred race events at Great Meadow as part of the long running Gold Cup program and via a new event called Virginia Downs; hosted a slate of Virginia-bred stakes and a trio of graded stakes at neighboring Laurel Park; and conducted pari-mutuel harness racing on back-to-back weekends at the Oak Ridge Estate in Nelson County. The VEA is currently developing both short term plans for 2016 and long term goals that include finding a home base for racing of both breeds and establishing additional revenue sources to fund an expansion of racing in the state.