From a Thoroughbred Charities of America release
Thoroughbred Charities of America will honor Bourbon Lane Stable with the Allaire duPont Leadership Award and The Jockey Club's Thoroughbred Incentive Program (TIP) with the TCA Industry Service Award at the 26th Annual Select Stallion Season Auction on Saturday, January 9, 2016 at the Keeneland Entertainment Center in Lexington, Ky.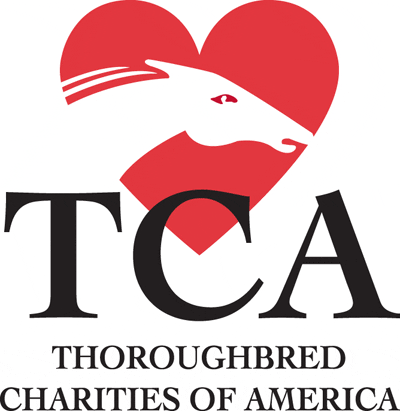 "Bourbon Lane Stable and the Thoroughbred Incentive Program have made tremendous contributions to Thoroughbred aftercare," said Dan Rosenberg, president of TCA. "Bourbon Lane is a shining example of responsible ownership and TIP has successfully worked to increase demand for off-track Thoroughbreds by incentivizing and rewarding owners. Both of their efforts speak to the mission of Thoroughbred Charities of America and for that we are very appreciative."
The Allaire duPont Leadership Award, named for one of TCA's founders, is presented annually to an organization or individual whose philanthropic endeavors are consistent with TCA's mission. Past award winners include Graham and Anita Motion, Frank Stronach, Fasig-Tipton, Darley, Todd Pletcher, Roy and Gretchen Jackson, Bill Casner and John and Debby Oxley.
Founded in 2010 and managed by McMahon & Hill Bloodstock, Bourbon Lane Stable is a public partnership that has campaigned many successful runners including Bourbon Courage, Bent on Bourbon, Bourbonize and Hashtag Bourbon. Bourbon Lane Stable is committed to Thoroughbred aftercare and works diligently to find suitable second careers for their retirees as sport or pleasure horses. Former racers that aren't suitable for second careers are retired to a dedicated paddock at Old Friends Farm in Georgetown, Ky. Established in 2010, with a donation from Bourbon Lane, the 15-acre paddock is available to any Thoroughbred that has race in Bourbon Lane's colors, regardless of whether the horse retired directly from the stable. In addition to Old Friends, Bourbon Lane also supports several other charities including the Retired Racehorse Project, California Retirement Management Account (CARMA) and Thoroughbred Charities of America (TCA).
"Bourbon Lane has set the bar very high when it comes to aftercare," said Michael Blowen president and founder of Old Friends Retirement Farm. "They search diligently for suitable situations for their retirees and make sure there are funds to support them. We are proud to be their partner."
The TCA Industry Service Award is presented annually to an organization that works to uphold TCA's mission. Past award winners include CANTER USA, Belmont Child Care Association, Old Friends, Kentucky Equine Humane Center, Mid-Atlantic Horse Rescue, New Vocations, Tranquility Farms and the Retired Racehorse Project.
Established in 2011, The Jockey Club's Thoroughbred Incentive Program (TIP) aims to encourage the retraining of Thoroughbreds in sport and pleasure horse disciplines upon the conclusion of their racing or breeding careers. It provides awards for Thoroughbred-only divisions and classes at horse shows and competitions across the U.S. and Canada.
To be eligible to participate in a TIP class or win a TIP award horses and riders must obtain a TIP number. Since the inception of the program, over 13,000 TIP numbers have been allocated. In 2015 alone, nearly 750 horse shows in 42 states and Canadian provinces have participated in the TIP program.
"When we created and introduced the Thoroughbred Incentive Program four years ago, it was a natural extension of The Jockey Club's ongoing efforts in Thoroughbred aftercare," said Kristin Leshney, legal associate with the Jockey Club and administrator of TIP. "We have been thrilled with the exceptional response and ever-increasing participation in the program and we are honored to receive such a prestigious award from TCA."
Approximately 10 seasons will be sold in the live Select Season Auction on Saturday, January 9. Bidders or their authorized agents may bid on the select seasons by attending the live auction in-person or they may bid on the select seasons during the online phase with the highest bidders earning the right to bid by phone during the live auction. In addition to the seasons, the live auction will feature non-season lots such as a Triple Crown ticket package, a John Deere utility vehicle, exciting experiences and much more. A silent auction will also be offered. All non-season items will also be available for bidding during the online auction with absentee bidding available at the live auction event.
TCA Stallion Season Auction sponsors include Lael Stable, Rosenberg Thoroughbred Consulting, PBI Bank, Candyland Farm, John Deere, Bourbon Lane Stable, Starquine.com, Fasig-Tipton, Keeneland and Blood-Horse Publications. For further information regarding the 26th annual TCA Stallion Season Auction including season donations, sponsorships and advertising please visit www.tca.org or call (859) 276-4989.
In 2015, TCA granted over $515,000 to more than 67 charities working within Thoroughbred retraining, rehoming and retirement; backstretch and farm worker services, research and equine-assisted therapy. During the last quarter of a century, TCA has granted over $21 million to more than 200 charities that successfully meet the criteria set forth in its annual grant application.
TCA's mission is to provide a better life for Thoroughbreds, both during and after their racing careers, by supporting qualified repurposing and retirement organizations and by helping the people who care for them.  TCA is the charitable arm of the Thoroughbred Owners and Breeders Association (TOBA).