by Doug McCoy
Back in 1996 a young 20 year old jockey from Caracas, Venezuela arrived in the U.S., armed only with a dream and a strong sense of purpose.  History may be repeating itself.
Twenty years ago, the upstart rider was Ramon Dominguez, and by the time he retired, Dominguez had established himself as one of the most successful and popular riders in the history of the sport. Before head injuries suffered in a spill in January of 2013 prompted Dominguez to hang up his tack, the rider had led the nation in races won three different years, had won Eclipse awards as the nation's top jockey in 2010-11-12 and had set a new single season mark for earnings in 2012 when his mounts earned $25,582,252.
Now, almost 20 years later, another young man from Venezuela with a vision for the future and a driving work ethic is trying to follow Dominguez's footsteps to success.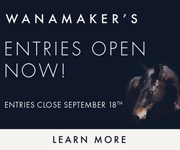 Keiber Rengifo arrived in Maryland earlier this fall, and thus far the 21-year-old has won nine races from 64 mounts, a respectable 14 percent clip. The youngster's journey to this point includes stops in Ocala, Florida, Gulfstream Park, and Arlington Park, as the aspiring rider acquired valuable knowledge and experience along the way.
"I first went to Ocala and went to work with Randy Hartley and Dean DeRenzo, who develop and consign young horses for the sales," Rengifo recalled. "I was green and inexperienced, and so were the young horses I was working with, so as they learned I learned."
Like most learning experiences, it wasn't easy.
"I spent some time on the ground," he admitted.  "But the more I worked with them (the young horses), the more I learned about horses' behavior, the things that spook and distract them and how to work to gain their confidence. I worked in Ocala for about a year and a half then went to Miami last winter to work at Gulfstream Park. This winter I worked for Wesley Ward for a while, and then he suggested I go to Arlington Park."
Rengifo logged his first victory at Arlington Park, and when that meet ended, he came east.
Agent Tom Stift picks up Rengifo's story at that point. "Benny Feliciano (former jockey and agent) brought Keiber here and he called me not long after he got here and asked me if I would take Keiber's book. Benny said he was 72 and felt like he didn't have the energy to be able to handle the travel and long hours that are needed to promote a young jockey. He wanted the rider to make the most of his time as an apprentice, so he recommended to Keiber that I take over his business."
Stift, who has, in recent years, handled Eclipse Award winner Victor Carrasco and Tyler Conner among others, said the rider is still learning and is a work in progress.  But, he allows, if hard work means anything, the young jockey's chances of success are high.
"He (Rengifo) is on the backside at 5:30 every morning," Stift reports, "and he doesn't miss a day. We were ribbing Victor (Carrasco) the other day that the kid was beating him to the barn because Victor's one of the hardest working riders I've ever worked for."
Rengifo won three races on a single card on Sunday, October 18th. Mondays are usually quiet on the backstretch and many riders take that morning off, but Rengifo was there and ready to go.
"One of the guys at the barn said, 'Man, you win three yesterday, why are you out here this morning?'  I told him I didn't win three races because I took days off, I won three races because I didn't."
So far, so good.
"I've been able to bring my mother and father to this country, and they're in Ocala now, and I've got my wife and little girl Reah here," Rengifo reported.  "I'm hoping I can continue to learn and get better as a rider and make a good living for my family."