by Frank Vespe
You'll forgive Anne Poulson if this one's a little bit sentimental.
Poulson, the breeder and owner of St. Albans Boy, was all smiles after Saturday's $100,000 Turf Cup, and with plenty of good reasons.  The five-year-old son of Giant's Causeway out of the Diamond Shoal mare Rose Diamond got his nose down at just the right moment to prevail in a three-horse photo and earn the first stakes win of his career.
"I was confident at first," trainer Kelly Rubley, earning the second stake win of her career, said of the wait for the photo finish.  "But then I started to question because it took a while.  I thought at the wire I could see his shadow roll. We were pleased."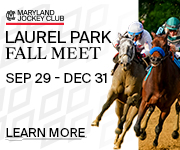 St. Albans Boy stalked the sluggish early pace of longshot Barton Holt, who meandered through the first mile of the 1 1/2 mile test in 1:40.40 while maintaining a length-and-a-half lead.  St. Albans Boy, ridden confidently by Daniel Centeno, raced in close attendance to the leader while three wide and looked for all the world like a winner entering the final of the race's three turns.
"I was very confident coming around the turn," said Rubley.  "But getting closer to the stretch, the 10 was coming, so we were getting a little nervous."
The 10, Perfect Title, most recently sixth against Grade 1 rivals in the Joe Hirsch Turf Classic, launched a stout late rally while wide on the course.  Meanwhile, Uncle Dave took over for the faltering Barton Holt — he would finish last — and refused to cede despite the pressure of St. Albans Boy and Perfect Title.
Those three head-bobbed their way to the wire, with St. Albans Boy earning the score over Perfect Title.  Uncle Dave held third — beaten just a head for all the money — with Reflecting in fourth.  Favored Divine Oath was never involved and finished seventh.
For St. Albans Boy, it was the fourth win, first in stakes company, of his 20-race career.  It pushed his career earnings north of $230,000.
But for Poulson, of Hare Forest Farm, it wasn't the money per se that mattered.
"He is the last foal out of my blue hen mare, Rose Diamond," Poulson explained.  "She foaled him when she was 24 years old."
Rose Diamond gave birth to no fewer than five stakes winners, including St. Albans Boy, before being retired.
"This colt was kept for sentimental reasons, being the last foals out of this mare," said Poulson.  "She's been so good to us.  All these horses [Rose Diamond's offspring] like to run later in life, so I'm not surprised that at five he's breaking through."
St. Albans Boy had been third and fourth against graded rivals earlier this season but was winless in '15 coming into today.  But Poulson said she had a feeling today might be different.
Her son Hundley — a St. Albans grad now attending Princeton and the "boy" for whom the horse was named — was home on break.  Poulson said, "I think it's a good sign" that he's back home.
Hundley and his baseball teammates, she said, had adopted the horse as a favorite of theirs, and though he didn't attend the race, he was watching.  "He's cheering," she said with a laugh.  "I have a lot of texts from him."
As for the future, Rubley said a trip to Florida is in St. Albans Boy's future.
And though there are no more foals from Rose Diamond on the way, this horse isn't the last Hare Forest runner carrying the Poulson family scholastic banner.  Poulson's daughter attends Georgetown Visitation Prep and, Poulson said she's excited about the two-year-old filly named for her.
In other words, keep an eye out for Visi Girl.