by Teresa Genaro
Saturday's Maryland Million Turf boasts no shortage of experience among the 11 horses entered; Bullheaded Boy is the lone 3-year-old in the field, and a quartet of 8-year-olds will attempt to put the other relative youngsters to shame and grab the winner's share of the $125,000 purse.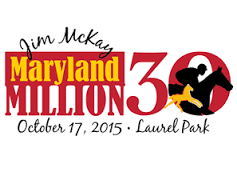 But even if one of those veterans—Roadhog, Havelock, Barrel of Love, or A P Elvis—makes it to the winner's circle, no doubt a certain 20-year-old dark bay in Frederick will chew lazily on a mouthful of grass, lift his head to look east, and sniff, "Young'un."
Ten years ago, La Reine's Terms came to the Maryland Million Turf off a year-long layoff. After winning the race in 2002, the Sondra and Howard Bender homebred skipped the race in 2003 and finished third in 2004—the race his trainer Larry Murray thought would be his last.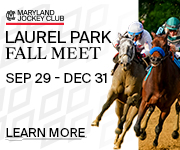 "We thought he was done," said Murray this week. "We'd always given him the winters off, and by the time he got to be 7 or 8, he get a little bit more crotchety when we'd bring him back in the spring, and it took a little longer every year for him to come around. And that year we decided that it looked like it would be the year he didn't make it back."
By Private Terms out of the King's Bishop mare La Reine Elaine, the bay horse was still sound; his only major injury had come when he was a yearling, when he'd suffered a broken neck. His modest breeding made a lucrative stallion career unlikely, so when, in the late winter of 2005, La Reine's Terms seemed disinclined to resume serious training, Murray kept him at the track instead of shipping him permanently back home to the Benders' Glade Valley Farm in Frederick, letting the then-10-year-old dictate his own schedule.
"He was the man," said Murray. "The farm would have been hot and buggy in the summer, and he got pampered at the track."
His regular exercise rider Val Kounelis continued to get on him, hobby-horsing around the track if that's what the old guy wanted, letting him pick it up if he showed a little more energy. And as the summer months passed and the cooler air came to Maryland, those energetic mornings became more frequent, leading Murray to ponder whether a third engagement in the Turf might be possible.
Murray had begun working for the Benders in 1979 after getting his start in New York. Growing up within walking distance of Belmont Park, he did stints with Roger Laurin and worked for the Phipps family, then headed south to work for Dr. Robert Leonard, then the managing partner at Glade Valley. He began training on his own in 1980 and had trained La Reine's Terms for every race in his eight-year career.
"I was worried about running him again," Murray admitted. "He hadn't run in a year, but that year's Turf wasn't the toughest crowd he'd ever danced with."
A veteran of 39 starts, La Reine's Terms had a record of 15-5-4 and earnings of $722,000. Seldom venturing outside of the Mid-Atlantic, he was nonetheless well traveled, racing regularly in Maryland, Virginia, and New Jersey with the occasional foray farther afield: a sixth-place finish at Saratoga in 2001, fifth in a 1999 allowance at Aqueduct, a win at Sam Houston in the NTRA Great State Challenge Turf Invitational Stakes. His lone placing in a graded stakes came in the 1998 Lexington Stakes at Belmont.
On the day of the 2005 Maryland Million Turf, October 15, Murray admonished jockey Jeremy Rose, who had earlier in the year won the Preakness and Belmont on Afleet Alex, "If he doesn't feel like it, don't push him."
Despite the year layoff, La Reine's Terms was sent off at the third choice in a field of nine. Stalking the pace over a good track and running wide, he tangled with leader Bingobear, hitting the wire three-quarters of a length in front of longshot Dr. Detroit, ridden that day by Rosie Napravnik.
"I think I had my eyes closed," admitted Murray. "I was so worried about him—not because of soundness, but you worry about a 10-year-old that hadn't run in a year. I'd have been hung in effigy if anything had happened to him. He had a lot of fans because he'd been around for so long."
And this time, there were no thoughts of another race.
"When Jeremy came back, he said, 'He's done,'" Murray recalled. "He was sound, but he was done."
So since then, La Reine's Terms has been back home at Glade Valley. Sondra Bender died in 2012, Howard earlier this month, and Murray has already begun to disburse their stock, though the farm still has a few runners, including one this Saturday, two-year-old Maryland's Love, co-second choice in the Lassie. And he still sees La Reine's Terms every day.
La Reine's Terms was never gelded, but he didn't have much of a stallion career, getting, said Murray, some very attractive foals that didn't have much ability.
"He never needed to be gelded," said the trainer. "He's a big, macho type of guy, but he's not mean at all, and I hate to geld them unless they need it.
"I think that's why he won a lot of his races," he went on. "He'd come into paddock prancing and dancing and snorting. The other horses would look over him and you could almost see them start shaking. I'd have hated to modify his personality by making him a gelding."
So the two-time Maryland Million Turf winner spends his days mostly hanging out. The last win pushed his earnings over the $800,000 mark, and he is, according to Murray, a happy retiree, joining other Bender runners enjoying life after racing. And while plans for the property following the Benders' passing are up in the air, Murray expects it to be around "for quite a while."
In his 35-year training career, Murray counts La Reine's Terms as among the best horses he's campaigned. Though he lacks the graded black type of some of his stablemates, he had that characteristic so prized by trainers and by fans: heart.
"He showed up every time," said Murray with admiration. "That's all you can hope for in a horse. You knew you'd take him over there and he'd give 100 percent."