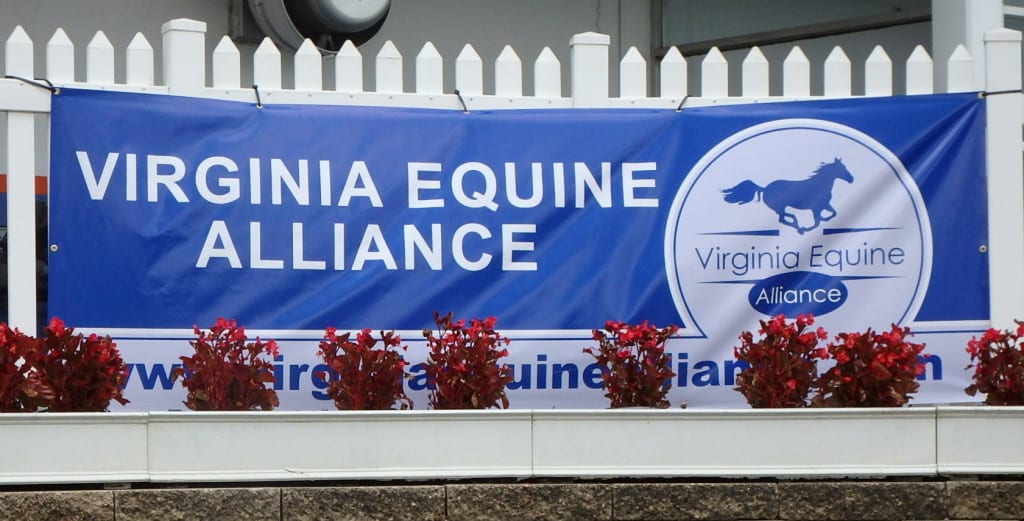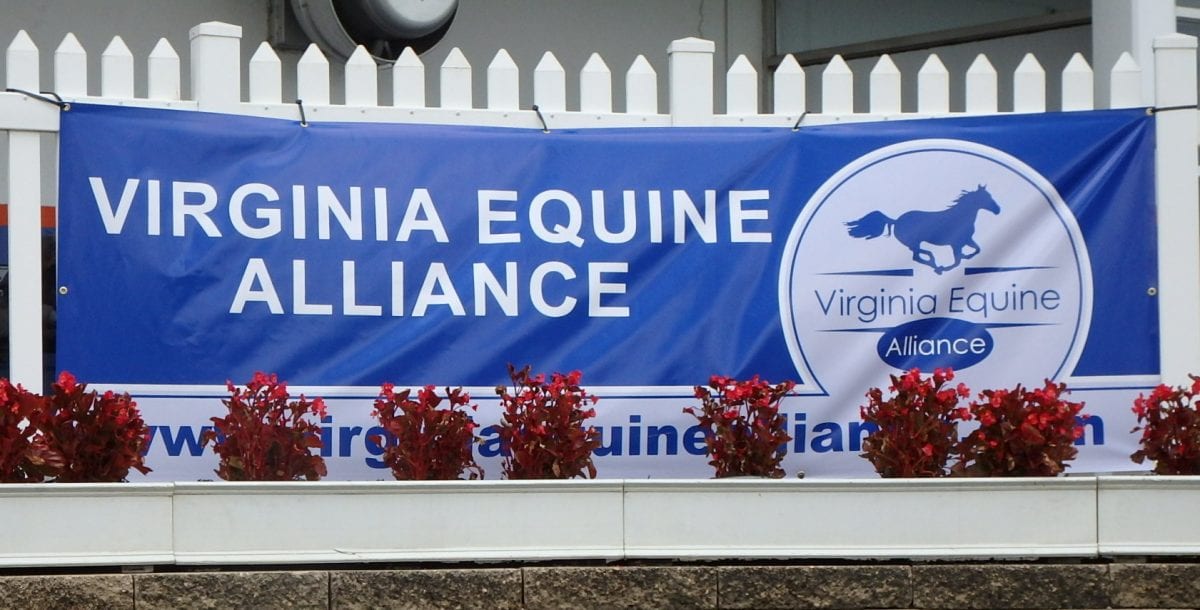 by Frank Vespe
Saturday's Commonwealth Oaks and bevy of supporting Virginia-bred stakes were everything the Virginia Equine Alliance (VEA) could have hoped for.
"I think we couldn't have asked it to work out any better," said Debbie Easter, head of the Virginia Thoroughbred Association (VTA) and president of the Equine Alliance.  "Today is even an improvement over last year, which I thought was a success.
"The fields are even bigger, and they're betting it," she added.  "It's exciting for our guys who don't have racing year-round or a shot at racing."
The races were competitive and produced a healthy mix of favorites and non-favorites.  Two three-year-old fillies — Exaggerated, who won the Oakley in a time even faster than that recorded by the boys in the next race, and Onus, who notched a flashy four-length score in the Grade 3 Commonwealth Oaks — stamped themselves as potential rising stars.
Why, there was even some Kentucky Derby-winning racing royalty in the house.  Roy and Gretchen Jackson, whose Lael Stables owned the ill-fated 2006 Derby hero Barbaro, were on hand to see Exaggerated's facile victory; and Stuart Janney, III, co-owner of 2013 Derby champ Orb, watched as his Onus romped home.
"We're pleased as punch with the support we're getting from the Maryland Jockey Club to run our races," said Frank Petramalo of the Virginia Horsemen's Benevolent and Protective Association (HBPA).  "The fields have been very good, the racing has been very competitive, so we certainly can't complain about that – except it's across the river in Maryland."
And there's the rub.  (Well, there, and also with the agreement that meant that Virginia's horse interests put up the purse money but Maryland's horse interests retained the takeout from the handle, according to Maryland sources.)
For all the success of Virginia's Maryland-based racing last year and this year, the exact meaning of what Petramalo called "a stopgap, interim measure" remains unclear– not unlike Virginia's future in racing itself.
"I think given the climate for racing in Virginia right now, this day here is the best thing the Virginia Equine Alliance can do," said trainer Ferris Allen.  Allen, a native of Varina, VA, and the all-time leading trainer at Virginia's Colonial Downs, was on hand to present the trophy to the winners of the Bert Allen Stakes, named for his father.
"It honors Virginia-breds. Everybody gets a chance to come here, and their Virginia-breds run in a nice venue."
Trainer Rodney Jenkins, another Virginia native, from Middleburg, agreed.  "It's a nice day," he said in the winner's circle after his juvenile filly Away We Go lodged a 15-1 upset in the Jamestown Stakes.  "It just shows you when you put on a good card with Virginia-breds, it's a good card for the people. It's a good betting card."
For Robin Richards, a breeder and horsewoman from Clarke County, as well as a board member of the HBPA and former president of the national HBPA, the day was more than that.
"It was an opportunity — I didn't run very well — to run a filly in a stake race, which is all important to me," she said.  Her horse, For Finery, finished ninth, though beaten just seven lengths, in the Brookmeade Stakes.
The day provided Virginia breeders and horsemen a chance to earn money and black-type — two commodities that keep the industry's doors open and lights on.  What's more, by running the three graded races — the Oaks on Saturday and the Grade 2 Commonwealth Derby and Commonwealth Cup the preceding week — the VEA retained their graded status, which will in coming years help to attract better horses.
To where remains the question.
While Jeff Jacobs' Colonial Downs has been the Commonwealth's flat track since 1997 — and most horse interests would like to see it remain a key player in the state's Thoroughbred industry — it seems unlikely that will be the case.
"We've had on again-off again negotiations with Colonial about leasing the track," explained Petramalo, with a rueful chuckle.  "If you were to ask me to handicap the odds, I'd say it's a longshot.  But we'd like to race there."
Multiple sources have described those negotiations as having something of a "Charlie Brown kicking the football" quality, with Jacobs playing the role of Lucy.
As a result, the VEA — a coalition of the HBPA, VTA, Virginia Harness Horse Association, and Virginia Gold Cup Association — is pursuing what Petramalo called a "new racing model" and Richards referred to as possibly a "new normal."
Their "back to the future" approach is to bring European-style country racing to Virginia, with short meets held at current or former steeplechase venues under the "Virginia Downs" moniker.
Just about a week ago, on September 20, the group held its first full Virginia Downs experience, at Great Meadow, home of the Gold Cup.  The six-race card attracted a crowd sources estimated at 2,500, drawn more by the promise of an enjoyable railside tailgating experience and the chance to help out the local SPCA — the day's charity partner, which took home admissions fees of $30 per car — than any interest in wagering.  Total handle on the card, which was not simulcast to other sources and had a limited wagering menu, was just $13,130, according to the official chart.
That's fine, Virginians say, because Virginia's racing product — whether with Colonial Downs or now, seemingly, without — has never been built on big handle on the local product.
"We in Virginia have always lived on imports.  Our race meets ahve always been very short — six or eight weeks in the summer," Petramalo explained.  "You don't make any money doing that, even when you have a popular signal.  Where we made money was the other 10 months a year with 10 [off-track wagering facilities] and of course online — that's what generates our purse money."
Petramalo estimated that those imports had generated "eight or nine million dollars" in prior years for the purse account.  With Colonial's OTB network now shuttered, and the horsemen legally prohibited, for the time being, from opening OTBs, that number is now reduced but is expected to grow once again once those legal issues are resolved.
The new model the VEA is pursuing, then, focuses not on handle but instead on attracting crowds to a day of racing in the country and disseminating money to Virginia horsemen and breeders.  Great Meadow figures to remain a part of that circuit.  Ideally, Morven Park, near Leesburg, will become one, as well.  Other sites have also been discussed.
"Having been to a lot of racetracks across the country and seen them struggling, I'm really a believer that to have vitality, you have to have these little pockets of interest all across the country," Richards explained.
"What we're doing is coming up with a new racing model that, I think, is more fan-friendly," added Petramalo.
"I think the fans loved [the racing at Great Meadow]," observed Easter.  "I've never had so many compliments from the fans."
Yet if the fans loved the experience, horsemen — at least those based at traditional racetracks — may not be so enthralled.  And it's unclear whether top horsemen would send their best horses — three Grade 1 winners competed in the VEA's graded races at Laurel — to a Virginia Downs event.
"A large majority of the entries [on September 20] were steeplechase, which is great because they're Virginia horsemen, too," acknowledged Easter.  "But we'd like to have some support from flat guys."
She said that she had heard concerns about the temporary stalls at Great Meadow and also about the flag starts; there is no starting gate there, and some horsemen have privately said that they would not race at a venue without a starting gate.  These are issues Easter said should be rectified if the VEA is able to race at Morven Park.
Whether that will assuage horsemen, however, remains to be seen.
Jenkins, after Away We Go's win on Saturday, paused a moment when asked about the country racing plan before replying.  "I'm not a cross country man in flat racing — that's all I'll say," he said.  "Look, I show jumped for years, that was my profession. I didn't show show jumpers on the flat track."
Added Allen, "My preference is very strong that you showcase Virginia-breds at a real venue where you can get real handle on it and the whole works, that you professionalize it as much as possible.  I frankly think that can't be pulled off at Morven Park."
But Petramalo said he was optimistic.
"In the horse business, it's kind of a cliche to say, horsemen complain about everything, and then you change it, and they say, 'No, no, no, don't change it,'" he said.  "The bottom line is, if you offer purses, horsemen will show up."
He, and others, pointed to the recent success of Kentucky Downs, a European-style turf course that recently concluded its five-day meet with nearly $17 million in total handle.  Yet that track offered purses for maiden races of $120,000 — the most by far of any track in the nation and an amount fueled in large part by slot machine-like instant racing machines.  Virginia, with little possibility of alternative gaming, isn't likely to offer purses remotely approaching that.
Richards, who said of the country racing plan, "You work with what you have," added the day's coda and perhaps pointed to what might be Virginia's greatest asset.
"We're a stubborn bunch," she said of the state's breeders and horse people.  "We love what we do.  I know how to breed a really good horse in Virginia.  That's where they belong."