by Frank Vespe
For entirely different reasons, neither James W. Casey nor Kelly Breen had visited Charles Town Races in 2015 prior to last night.
By evening's end, however, that had changed — and both had scored memorable, and popular victories.
Casey, a Charles Town legend, returned in time to see the remarkable Russell Road, a horse he trains for Mark Russell, score in a $30,000 handicap at 2-5 odds in the evening's second race.  The nine-year-old son of Wheaton has won 30 of 57 career starts and earned nearly $2 million.

Five races later, Greenway Court, a horse he bred and trains, as well as owns, won the $50,000 It's Only Money Stakes, for West Virginia-breds, for the third consecutive year, this time at 4-5 odds.  Greenway Court, a six-year-old son of Windsor Castle, has now won 13 of 25 career starts and earned over $340,000.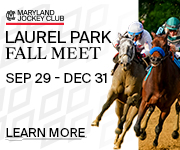 Casey navigated his way to the winner's circle, leaning on a walker as he went.
"First time I've been back since the Saturday before Christmas," he explained.  "I've had all my knees operated on.  I'm just waiting for my knees to go right."
Casey, who with his wife Eleanor opened Taylor Mountain Farm and, since her untimely death in 2005 at age 73, has continued to operate it along with son (and fellow trainer John A. Casey), said that he'd endured five knee operations since his last trip to the track.
But, he said, that could soon change.  "I'm hoping in three weeks I'll be able to get rid of this thing," he said, gesturing to the walker.  "I'm hoping."
He certainly has reason to get back.  Russell Road figures to return to action in the $500,000 West Virginia Breeders Classic on October 10.  Greenway Court is likely to be a prime contender in one of that event's supporting stakes, the West Virginia Dash for Cash Breeders' Classic Stakes, which he won two years ago and in which he placed last year at odds-on.
And Casey said he's also excited about Charitable Annuity, a three-year-old by his own stallion, Charitable Man, whom he trains for Russell.  Charitable Annuity has won his last two starts, including the Robert G. Leavitt Stakes.
"We've got a nice little three-year-old [in Charitable Annuity]," Casey said.  "He's five for eight, and he ran a real fast time, beat the best here just easy. He's going to go in the big race [on Breeders' Classics night]."
All in all, said Casey, winning, like sugar, makes the medicine go down.
"Yes, it does," he said with a chuckle.  "It helps a lot."
Breen, the Monmouth Park-based trainer, found himself in Charles Town on Charles Town Oaks night for the second consecutive year, and for the same reason: his hard-hitting old-timer Pants on Fire was running in the $100,000 Wild and Wonderful Stakes.
Sent off at 3-5 — he was 4-5 a year ago — Pants on Fire mounted a furious late rally to win by a half-length over local star Hidden Canyon.  Pants on Fire and jockey Paco Lopez returned to the winner's circle pleased, but also caked in dirt after closing from fifth place.
It capped off quite a day for Breen.  Earlier in the day, at Parx Racing, one of his trainees, Encryption, won the $150,000 Bayern Stakes, and another, Calamity Kate, was a game second in the Grade 1, $1 million Cotillion Stakes.
A year ago, Pants on Fire, who's now earned more than $1.6 million, went from this race to a very good third-place finish in the Grade 1 Breeders' Cup Dirt Mile.  Breen didn't rule out a return.
"We'll see how it – who goes in the Mile, [since] that would be his spot again," he said post-race.  "And we'll see how he comes out of it."
Pants on Fire, now seven, has won at least one stake in each of the last five seasons.  That's both a testament to horse and trainer — and a sign that retirement can't be far away.
"You know, he's at the end of his career," the trainer noted.  "We don't know if he's going to have another race or not, see if he goes to a nice home as a stallion somewhere.  [We're] trying to take it one race at a time, but it's nice to get him back in the winners' circle."
It had been something of a rough year for the George and Lori Hall homebred son of Jump Start.  After a season-opening win in the Sir Shackleton Stakes at Gulfstream Park, he had finished no better than third in three tries against graded rivals, most recently finishing a distant fifth in the Grade 2 Monmouth Cup.
But the win Saturday night indicated that Pants on Fire may yet have something in the tank.
"I'll tell you what," Breen said.  "He had to overcome a lot, he got a lot of dirt in his face, and he run a helluva race."
It's four years on since Pants on Fire won the Grade 2 Louisiana Derby and headed to Churchill Downs as one of the main Kentucky Derby contenders, finishing ninth.  His jockey then, Rosie Napravnik, has retired.  The winner of that Derby, Animal Kingdom, has long since gone to stud.
But Pants on Fire soldiers on.
"He's one of our top runners, and he's a homebred," said Breen.  "It's just nice to be able to train a horse like that."