From a Maryland Jockey Club release
Laurel Park will open its fall meet Saturday while it continues working on renovating its grandstand with a new simulcast room, 90 additional flat-screen televisions, a Bose speaker system, new food and drink options, and an innovative app allowing fans to listen to their favorite track on their mobile device.
"The place is really getting a facelift and it looks fantastic," said Maryland Jockey Club President and GM Sal Sinatra.
The renovated grandstand is part of a nearly $17 million improvement project at Laurel Park. The Maryland Jockey Club is constructing three new barns that will cost approximately $10 million. A $7 million project completed last winter included a new surveillance system on the front and backside of the track as well as 150 flat-screen televisions.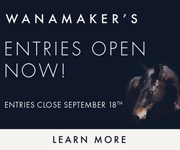 Laurel's latest improvements will include a new entryway into the grandstand and a new simulcast room christened Silks featuring a 17 ½-foot high definition television, a Bose sound system and a new app that allows fans to listen to their favorite track on their mobile device from anywhere throughout the facility.
The flooring throughout the grandstand has been replaced with hardwood laminate or rugs while two bars have been refurbished and a third added. By October, Laurel will also feature a new food court with new dining options. The cream, brown and green-colored walls will be replaced with Laurel's blue, gray and orange colors.
Meanwhile, construction has started on the second of three new barns on Laurel's backstretch. The new barns will each have a total of 150 stalls with laundry rooms, restrooms, locker rooms and wash pads.
"The new construction and renovations are part of the Maryland Jockey Club's ongoing commitment to its fans, breeders, owners and horsemen," Sinatra said. "We believe there is tremendous potential in the sport of Thoroughbred racing in Maryland and the Mid-Atlantic. We are going to continue to find ways to reinvigorate the sport with upgrades to our facilities and a quality racing product."