Each week during the Saratoga meet, Teresa Genaro will share with us some of the mid-Atlantic stories and characters who are a part of the upstate New York scene in her Spa Diary.
by Teresa Genaro
Saturday, August 8 was a pretty big day at Saratoga Race Course. The inaugural Whitney Racing Festival featured five stakes races, three of them graded, the centerpiece the 88th running of the Whitney Stakes.
Kendrick Carmouche had mounts in three of those races. He finished last in the first one, on Joint Return in the Fasig-Tipton De La Rose. In the Test, his filly Wonder Gal stumbled out of the gate, ending up eighth.

But the third time was the charm, and aboard Goldy Espony in the Grade 3 Fasig-Tipton Waya, Carmouche went right to the lead, dangling tantalizingly in front of the field of 10 to win by 3 1/4 lengths, for his first graded stakes victory in New York.
A perennial leading rider at Parx, the 31-year-old Carmouche moved his tack to New York this year. He ranked in the top 10 during the Aqueduct inner and main track meets, and he's currently sitting ninth on the Saratoga leaderboard, no small accomplishment given his competition.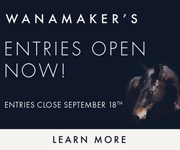 Carmouche grew up in Louisiana, near Evangeline Downs, a region hospitable to black jockeys. His father Sylvester rode races, both Thoroughbred and Quarter Horse, and Carmouche remembers that when he was seven or eight years old, his father and grandfather tied him onto a horse for the first time.
"Oh, man," he said, sitting outside the jockeys' room at Saratoga. "They tied me up on there and just let me go. I fell off and was underneath the horse, and they just picked me up, and I was ready to go after that."
"I'll never forget it," he said in a voice that still lilts with his Louisiana roots, though he's been in the north for 25 years. "I was scared after that for a while, but then I was fine. You gotta get your fear out before you start going faster."
He rode Quarter Horses first—"That's what you're supposed to do in Louisiana," he said. "You learn how to break out of the gate good"—then switched to Thoroughbreds. His first mount was at Delta Downs in 2000, and he rode at Evangeline for a few months before taking off for Texas' Sam Houston Race Course.
And then he got his break.
"When I left Sam Houston, I got a call from an agent, who asked me to go to Philadelphia Park," he recounted. "I never looked back."
That agent was Jack Servis, the uncle of trainers Jason and John.
"If I wouldn't have been for him, I wouldn't be in the situation I am now," Carmouche declared. "He passed away, God rest his soul."
Carmouche was 16 when he left home. He admitted to regret about missing out on a typical childhood, and to painful separations from family during the holidays, but, he said, "Leaving Louisiana made me go forward, and my mom and dad always told me, 'Never pass up an opportunity,' and I don't."
That philosophy is what brought him to New York—Aqueduct first, then Belmont, and now a summer at Saratoga spent at least in part, again, away from his family, this time his wife Whitney and his children Olivia and Kendrick ("No junior," he is quick to point out. "His middle name is Grayson, and mine is James.")
Born on the same day—July 24, this year's Saratoga opening day—three years apart, Carmouche's children can both ride, but only nine-year-old Olivia is committed to it.
"She rides show horses, and she is phenomenal," he said, bursting with fatherly pride. "You watch her ride, she's gonna bring tears to your eyes."
Kendrick fils prefers the swimming pool to the riding ring.
"They just brighten me so much," said his father. "I watch them accomplish so much and it makes me want to do the same."
A family man to the core, Carmouche has had, on more than one occasion, those family ties tested. In 1990, his father was suspended for 10 years, accused of stealing a race by hiding in the fog at Delta Downs. Earlier this year, his brother, also a jockey, was accused of attempted murder, arson, and animal cruelty.
"Regardless of whatever my family goes through," he said, "I'm always going to stick behind them 100%. That's what you're supposed to do. They're my blood. It's what every kid should do, be strong for their parents."
On Wednesday, Carmouche signed autographs in support of Dyer-Phelps, a Saratoga church organization that offers support and relief to the African-American community. He didn't hit the board in three mounts that day, but he was in the winner's circle on Thursday, and he's scheduled to ride seven on Friday and five on Saturday, including morning line favorite Shore Runner in the Troy Stakes.
"This is a big step in my career," he said. "I thank the people at Parx so much—they kept riding me each year and were successful in making me leading jockey there for six years. "
"Here," he continued, "you've got bigger ovals and you've got better jocks that ride good horses.
"It's different, but you can accomplish anything if you set your mind to it, and that's the way I always look at it."