by Doug McCoy
Juggling the demands of a career with those of raising a family is the situation that faces millions of single parents around the world. Competing at the highest levels of a demanding and dangerous sport while also parenting two young children has its own unique set of challenges.
Just ask Maria Remedio, jockey/single mom.
"It makes for busy days," she says of her demanding schedule, "but my main rule is 'family first.'"
Remedio, 29, has been riding for 11 years and has been juggling career and family demands for six of those. Son Caleb was born in 2009, followed by daughter Arabella in 2011.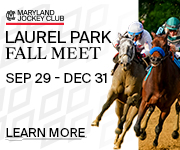 During the three year period when her children were born, Remedio's career had to take a back seat. The rider won a total of just 13 races in three years. But just 39 days after giving birth to Arabella by Cesarean section, Remedio returned to win aboard King Kobe at Delaware Park in September of 2011.
Remedio originally tried to be a stay-at-home mom for a time while living in New York, but when her relationship with the father of her children ended badly, she returned to Pennsylvania and set her sights on rebuilding her career. She returned to riding full time in 2013, winning a career high 96 races while her mounts earned more than $2.8 million in purses.
An injured shoulder kept Remedio sidelined for several months last season, but she is back to riding full time and is trying to rebuild her client base.
Indeed, balancing that possibility – of injury – with her responsibilities to her children is one challenge that Remedio faces that most single parents do not. Yet Remedio says she can't let that affect the way she rides.
"I just don't let it be a part of my thinking or my life," she explains. "I mean, sure, there's always that thought about how it would affect the kids if I were to be seriously injured, but every rider who's a parent has those concerns. But the day I start thinking about fear or being scared is the day I'm going to stop riding. It's when you start thinking about the what-ifs is when you get hurt. Once they spring the latch my mind goes into race mode and it's all about the race and what's happening at that moment. There's no time for anything else mentally."
That ability to focus is something that Remedio has honed over years of competing.
A native of Wilmington Delaware, Remedio began competing at an early age, often with boys. With three brothers and a sister Remedio was an admitted tomboy growing up and had the unusual distinction of wrestling on the boys' squad when she attended Paul Hodgson Vocational Technical High School in Newark, DE, where she also played on the boys' lacrosse team. She also wrestled in U.S. Girls' Wrestling Association meets, winning individual titles in meets in Washington D.C., Maryland and Virginia.
Remedio, whose mother, Patti Remedio, has trained horses in the Mid-Atlantic for years, began getting on horses in high school, working for Graham Motion. She rode her first horse for him at Monmouth. She won her first race on her 19th birthday: October 20th, 2004. In her first five years as a jockey, Remedio's mounts earned over a million dollars in purse earnings three different years.
Now, as she reconstructs a career taken off course for the happiest of reasons, Remedio faces the challenges of doing so while juggling a home life. She is currently 11th in the rider's standings at Delaware Park with 16 wins while scoring at a 23 percent clip — even though she considers Parx Racing to be her home base.
"Every day seems to be full of surprises of one sort or another, but basically I get up at 5:30 a.m., my babysitter comes and I go to the track," Remedio explains. "As soon as training hours are over I head home because I always try to spend some time with the kids before I head back to the track. Maybe I have time to throw a load of laundry in the washing machine, then it's back to the track.
"Then it's back home after the races to have some dinner and play with the kids until their bedtime. Then we head to bed and it starts all over again at 5:30."
It sounds like a grind, but some days pose additional challenges.
"Friday night, I drove up [to Penn National] to ride one horse but the horse scratched," Remedio recalls. "But I was in the room and another mount became available. I picked up that mount and the horse (One Look) won. He paid a big price ($66.00) and the purse was $29,000, so it was a long day, but a good day."
Remedio says she's grateful to have a "wonderful lady" who takes care of the kids while she's off earning a living and who has the flexibility to step in when circumstances like that arise.
In the end, Remedio says, the most important thing is to keep an eye on what really matters.
"Riding can be glamorous and the money's great when you're doing well," she says. "But when all is said and done, it's your family that's the most important thing."