Each week during the Saratoga meet, Teresa Genaro will share with us some of the mid-Atlantic stories and characters who are a part of the upstate New York scene in her Spa Diary.
by Teresa Genaro
She is one of the faces of New York racing, on-screen every racing day, in the paddock pre-race offering analysis of horses' appearance, in the winner's circle post-race interviewing happy connections.
But the woman so closely identified with the tracks on the NYRA circuit is a product of generations of mid-Atlantic racing, and she didn't even make her first trip to Saratoga until nine years ago.


"I came here with an ex-boyfriend who was from here," explained Maggie Wolfendale, sitting in her office deep inside the Saratoga grandstand. "We came up here for vacation, and I immediately fell in love with it. I thought it was the best place on earth."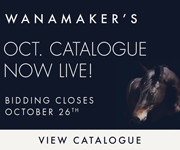 Then she corrects herself.
"Or at least, the best place in America."
That addendum is no doubt a nod to Tom Morley, the Englishman for whom she gallops horses and whom she married in England in June.
Wolfendale was hired by NYRA as a paddock analyst in 2010, spending her first full summer here that year. And while there was a steep learning curve, some of the big lessons took place off the track.
"It took me a couple of seasons to learn that you can't burn the candle too strongly at both ends," she admitted with a laugh, one in a long line of people who learn the hard way that working in Saratoga requires an adept touch in enjoying the town's social offerings while not overdoing them.
The 28-year-old Wolfendale grew up at the track, hanging out in a playpen in the tack room of barn 18 at Laurel Park. She remembers that her parents, Howard and Tammy, "let her loose" in the shedrow after the horses were done training.
It was in that shedrow that she fell in love with her first horse.
"Colonel Hill," she said. "He later became my riding horse. I think we got him as a 2-year-old, and he was gorgeous."
The horse went in and out of the Wolfendale barn, through transfers and claims; Wolfendale remembers sobbing when he got claimed away from them.
She got her first pony when she was two years old; beginning with hunter/jumpers, she switched to dressage at age 10. Six years later, she got her exercise rider's license and started working for her father.  Then, after moving to New York, she galloped horses for Linda Rice and Leah Gyarmati, transferring what she'd learned from dressage to the racetrack.
"I think the biggest thing [the trainers] appreciate is my communication from what I'm feeling with the horse," she reflected. "I told Tom recently that I thought a filly's pelvis was bothering her, and [after she was examined], we found out her pelvis was out of whack."
While she worked at the track, Wolfendale attended first community college, then Towson University, majoring in mass communications. She continued to show horses and got her trainer's license when she was 21, taking a string of her father's horses down to Virginia's Colonial Downs, where she also worked for two seasons as an on-air analyst.
And while Wolfendale brings a wealth of hands-on experience to her work, her current position requires another set of skills, these strictly visual.
"It comes from my dad being pretty much a claiming trainer," she explained. "Watching him pick out horses to claim…that kind of attuned my eye to watching horses in the paddock."
She keeps notes on horses' appearances, reviewing them before races. Before a baby race, she'll watch sales videos from breeze-up shows and examine pedigrees. Her day-to-day immersion on New York's backstretches, both in the paddock and on the track in the morning, also familiarizes her with how horses tend to look for certain trainers.
She acknowledges that she can get flak from trainers for offering a less than favorable opinion of one of their entries.
"But I'll always stand by the fact that I'm being completely honest," she said. "My job is for the betting public."
Voicing a negative opinion of one particular trainer's horses could be especially problematic, and Wolfendale has at times faced criticism on social media for her comments on her husband's horses. She is in a tricky position but said that she wouldn't shy from a less-than-favorable observation.
"Tom does an excellent job," said Wolfendale, who kept her name professionally but who is now legally Maggie Morley. "If anything, his horses are a little heavy, and that's been my negative opinion about Tom's horses, that they look fat and not quite as fit."
And while she prides herself on her objectivity, she does confess to a little bit of partiality.
"I do love our American horses," she admitted. "I love horses with big hind ends and powerful, bulging muscles in their shoulders. I like that thicker-looking horse."
Which is also a point of contention in the Wolfendale-Morley household.
"Tom always makes fun of me because I'm not partial to Europeans," she said.
Not, at least, when it comes to horses.