A man who worked as a security guard at Pimlico Race Course was shot and killed early Sunday morning on his way to work, leaving a broken and grieving family behind.
Horsemen are helping out.  The Maryland Horsemen's Assistance Foundation (MHAF) has launched an effort to raise money to assist the family in defraying his funeral expenses.
Kevin Jones, 22, was killed around 5:00 Sunday morning at the edge of the parking lot near Hayward Avenue outside of Pimlico Race Course.  According to WBAL, detectives have said that Jones was approached by an unknown person and shot.
The MHAF, founded in 1947 to provide assistance to people working at Maryland tracks and farms, is seeking to raise approximately $7,000 to assist the family, said Executive Director Bobby Lillis.  The MHAF, which has long done yeoman's work in providing financial and medical assistance to backstretch employees and others in the Thoroughbred industry, spearheaded a 2013 initiative that raised about $40,000 for injured exercise rider Jose Villegas.

"Kevin was a very energetic, happy guy," Lillis said of the slain man.  "He would go above and beyond to try to help you."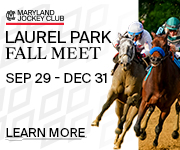 Lillis said the Fund is actively seeking donations to assist Jones's family and will also contribute $1,000 of its own funds.  He said his organization is also working with the funeral home to minimize the stress on the family.  All donations to the MHAF are tax-deductible.
As of 5:00 Thursday evening, several people had left comments on the funeral home's obituary page, which also includes information on visitation and funeral arrangements.
Among them was this comment from trainer Janon and Sissy Fisher.  "There was not one single person on the racetrack that did not think the world of him," they said.
TO DONATE: Please send a check or money order payable to the MHAF, 500 Redland Court, Suite 105, Owings Mills MD 21117, OR call 410-902-6843 for more information.