Evelyn Benoit proving doubters wrong one win at a time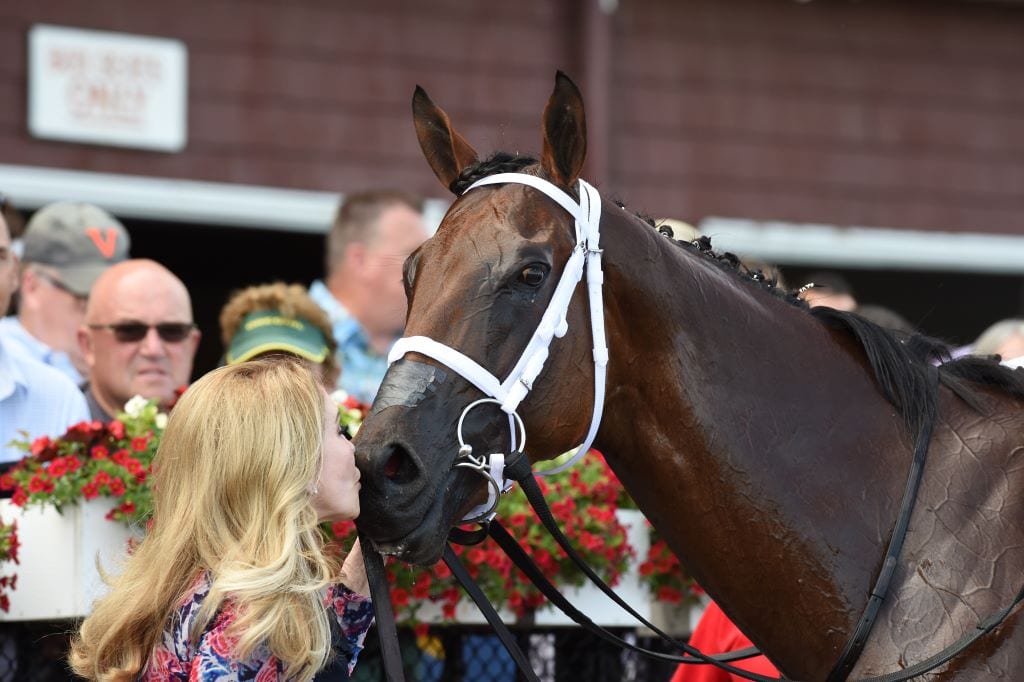 Evelyn Benoit gives a kiss to Minit to Stardom after the Star Guitar filly won the G2 Honorable Miss at Saratoga. Photo by Susie Raisher.
Plenty of horse owners fly on private jets to watch their horses race. But a horse owner exiting one of those jets and climbing in the back of a horse van for the trip to the racetrack? Now, that's not something that happens every day.
But that's about par for the course when it comes to the life and times of Evelyn Benoit.
Benoit is the hands-on owner of Brittlyn Stable Inc, one of the top purse-earning stables this season among owners racing regularly at Delaware Park. She's a lady who has a simple motto: "If you want something done, and done right, then do it yourself."
Even if it means a ride in a horse van, as it did when she accompanied Wild About Star to Pimlico back in May.
"I must say that's the first time I've gone from a jet to a horse van for transportation," the straight-talking Benoit admitted. "But time was tight for us to get to the track so I just hopped in the back of the van with Wild About Star, and we headed down the road to Pimlico. I gotta tell you, I wasn't real crazy about going through that tunnel we had to go through on the way there, and I was also disappointed I couldn't get a chance to wear a nice dress I'd brought to wear for the race. But I changed to a nice outfit in the van, and at least we were presentable."
And Wild About Star did her part that day, sweeping along the outside to win The Very One Stakes in a mild upset, another winner for a stable that rose from humble beginnings more than two decades back.
Benoit began Brittlyn (named after daughter Britt and mother Evelyn) Stable with a $5,000 horse and from the early stages her focus was on acquiring broodmares and broodmare prospects, believing a strong broodmare band was the key to having any chance for success competing against owners and breeders with more resources and manpower.
She acquired a horse named Zacado Zacado for $5,000, and she went on to win 14 times in 49 starts in the late 1980s and early 1990s. Zacado Zacado produced seven winners from as many foals and one of those in turn produced runners who earned more than $1.2 million in earnings.
Roaring Fireplace, whom Benoit purchased as a broodmare prospect, produced a filly named Minit Towinit. Minit Towinit won over $100,000 during her racing career and then was mated with Quiet American. Beset with problems during her pregnancy, Minit Towinit was found dead in a paddock during storms that were part of Hurricane Katrina, and according to Benoit, when she was found her foal was nudging his mom, trying to get her to get up.
That foal was later named Star Guitar, and before he had even run Benoit knew this horse was something special.
"We drove to Evangeline to see him work one morning, and as soon as the work was over I called Al (Stall Jr) and told him, 'I'm sending you a horse who's some kinda fast. I think this may be the best horse I've ever owned,'" she remembered.
And she was right. Star Guitar went on to win 24 of 30 career starts, most coming against Louisiana-breds, and wound up earning more than $1.7 million.
Just two weeks before Star Guitar made his first start in late 2007, however, Benoit's husband Maurice was on his way home to Houma, Louisiana, after a day at Benoit Machine when a tractor-trailer pulled out in front of him. Benoit's auto went under the rig and was dragged 100 feet down the highway.
Maurice Benoit suffered catastrophic injuries that left him paralyzed from the waist down and after three months in intensive care, was transferred home where he was under round-the-clock care.
After grieving for almost a month, Evelyn Benoit had to pull her emotions together
"I realized there were almost 200 people depending on Benoit Machine (Benoit Machine had been in business since Maurice's father founded the company in 1943, specializing in oil drilling tubing and equipment) and someone had to take ahold of things," she explained. "I spent the best part of three days preparing myself. Then the following Monday, I headed to the office and took over the running of the company. Luckily, I had a great team to support me, but it was still a tough time. A lot of people in the business didn't want to do business with a woman. One of our clients was a Japanese company, and they refused to even talk to me on the phone."
It was a challenging time, and Benoit took solace in the horses.
"That's why Star Guitar was so important to me and the family," she said. "It was so uplifting to watch him run and win and took our minds off things, even if it was just for a short time."
Later Benoit's son Tyron, a gifted musician like his brother, noted blues guitarist Tab, gave up touring with his band and took over the leadership at Benoit Machine, which in 2012 was purchased by a conglomerate and rechristened Benoit Premium Threading LLC.
Brittlyn's trainer Jose Camejo visited Delaware Park at the urging of new racing secretary Tom Creel and talked to his owner about racing here this season. Benoit says she has a lot of respect for the Camejo's opinion and agreed to send a string to the East Coast for the first time. It was a decision she says she's glad she made.
"I'm very impressed with our time here (at Delaware Park)," the owner-breeder said. "The first time I visited and walked into the paddock and walking ring, it blew me away. It's so natural, full of trees and greenery and it's so horse-friendly, like they belong there. We've sent more horses up to Jose, and I'm thinking Delaware Park will be a big part of our racing program from now on."
Benoit also had words of praise for Camejo and the ex-rider's work ethic.
"I used to say I never saw anybody work as hard as my husband and that's still true, but Jose comes close," Benoit admitted. "He's totally committed to the horses, he is always thinking of them first, and I know I count on him to do what's right for the horse. I've only got two trainers now, Jose and Steve Asmussen, and both do outstanding jobs"
Since Star Guitar's retirement as a runner, Benoit has been working hard to make him a sire. That's included purchasing high-end mares to send to him, though he stands for just $7,500. It's a strategy that many in the game would doubt, but it seems to be working.
July 24 was a milestone for Brittlyn Stables and for Star Guitar. That's when Minit to Stardom wired a strong field at 20-1 in the $200,000 Grade 2 Honorable Miss Handicap at Saratoga to give Star Guitar his first graded stakes winner.
"That was a very special day for all of us," said the woman who has been called the "first lady of Louisiana racing."
She added, "You know, I don't have a p.r. firm to publicize Star Guitar, I don't send out flyers or press releases. I'm a one-woman operation, but he's been gaining more and more success since he's been a sire, and it was nice to show those who said he'd never sire a graded stakes winner they were wrong."
It was, she said, a familiar refrain she delights in proving wrong.
"Watching the race I could see Alex (Cintron) was just saving her and checking out the competition in the turn and I thought, 'I think we've got a chance here,'" she recalled. "He rode such a great race, and she ran huge. I know nobody gave her much of a chance in the race but I'm used to that. I've been hearing people say things like that all my life.
"I love hearing that" she added wryly. "It just make it that much sweeter when we prove them wrong."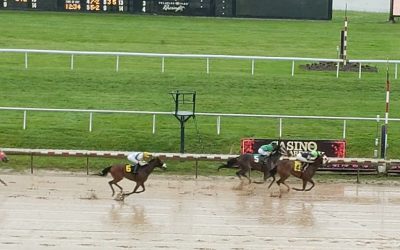 In a new Off the Pace, Mike Valiante shares 10 New Year's resolutions he offers for Delaware Park.