Gabby Gaudet's got some thoughts on a live longshot and a Pick 6 play.

Pimlico's dime Rainbow 6 wager has a carryover of $275,321 heading into Saturday's racing action — with a mandatory payout.
With all that money on the line, Maryland racing analyst Gabby Gaudet shared her picks.  The sequence starts with race six.
[su_box title="
GABBY'S RAINBOW PICK 6 PLAY
" style="glass"]
SHORT TICKET
Race 6 2, 3, 6
Race 7 3, 6
Race 8 4, 7, 10
Race 9 1, 5, 6, 7
Race 10 5, 7
Race 11 2, 5, 6
Ticket cost (0.10 unit) $43.20
LONG TICKET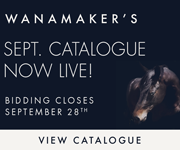 Race 6 2, 3, 6
Race 7 2, 3, 6
Race 8 4, 6, 7, 10
Race 9 1, 5, 6, 7
Race 10 4, 5, 7
Race 11 2, 3, 5, 6
Ticket cost (0.10 unit) $172.80
[/su_box]
GABBY'S RACING NOTES
[su_list icon="icon: check"]
Race 6 — #2 With Expression had a good showing against similar company last out. Winner of that race was heavily bet early, after a troubled trip in race prior. Fits here. #3 Tiago's Honour attempts turf for the first time. Corrales barn hits the board 21 percent of the time with first time turf runners. With the few turf starters the sire has had, they've actually done quite well (3 for 5). #6 Duke of Perth gets an intimidating drop in class after time away, but back turf credentials make him too scary to leave off ticket.
Race 7 — #2 Aim Straight debuts for Figgins barn who wins at an 11percent clip and finishes "in the money" 43 percent of the time with horses debuting in maiden special weights. Runners always physically look very well. The excellent horsemanship could pay off here.  #3 Joseph clocks good works leading into debut for a barn that does well with first time starters. Usually when you see Carrasco and Jenkins team up with first time starters in maiden special weights, they tend to be the top runners in the stable (including Golden Years and Top of Mind who both won in debut). Is today the day for #6 Stonebriar? He's surely come quite close in the past.
Race 8 —This race is a bit of a scramble. I could've clicked the "all" button if I had the funds to do so. #4 Pennie My Love is a little better than what she showed last out. If she's able to get a clear-cut lead today, she could steal it. #7 Keys Garboy's best race was on a fast track and gets a class relief from higher levels last out. I've liked #10 Synergist far too long to leave her out of a mandatory payout ticket. Hoping today is the day she gets off the schneid.
Race 9 — #7 Balthazar was heavily bet to no avail last out against similar company on the turf. Looked like he was rounding back into form on the main track leading into turf race, but he really didn't pick up his feet. Robinson barn does well with retooling new horses, and if this runner can get (even close) to his back turf form, he should be contentious against this group. #6 Silver Rock is a big, loping, turf plodder that needs a well-timed move and room to run at the top of the stretch. The lack of pace here is my biggest concern. #1 Barnards Galaxy will be able to get a ground saving trip from rail and his numbers stack up well against this field. Long shot play in here is #5 Ventura Bar. Sprinter stretches out on the turf, a surface where he's 4 for 6 "in the money". Could be the sleeper if he shows speed today.
Race 10 — Does pace make the race? #5 Regal Soldier should be able to sit just off of the speedy Double Whammy to his inside and be tactically positioned early. Barn bats at about 15 percent sprints-to-routes, but jockey/trainer combo is only 4-for-33 over the past five years. Kieron Magee sends out #7 My Son Ernie looking to make it four in a row. Barn wins at 23 percent with claimers stepping up to allowance level. Leave the barn out of your ticket at your own risk. #4 Sparkling Jewel's last race was meant as a tightener to get back to the two-turn distance today. He should take a big step forward from last race off the layoff.
Race 11 — #2 Pitch 'n Putt and #5 Kirkies Dream figure to be the speed here — both are sprinters stretching out — and might be able to control the pace from the jump.  Look for #6 Thunders Fury, in his second start in the Wolfendale barn, and second with shades on, to run on late to hit the board — as long as the speed doesn't get too far away.
[/su_list]