From a Maryland Jockey Club release
The Maryland Jockey Club will host two of the region's biggest Belmont Stakes parties Saturday, June 6 when Preakness Stakes winner American Pharoah attempts to make history by becoming the first Triple Crown winner in 37 years.
Gates will open at 10:45 a.m. at both Pimlico Race Course and Laurel Park. Belmont's first race is scheduled for 11:45 a.m. while Pimlico's final live racing program of 2015 will begin at 12:45 p.m. Pimlico's final live program will also feature a mandatory payout of the 10-cent Rainbow 6.
American Pharoah t-shirts will be given free to the first 2,200 fans at Pimlico and the first 1,800 fans at Laurel with paid admission. Both facilities will also offer Triple Crown buffets featuring entrees, carving stations, appetizers, desserts and afternoon snacks for $35 per person. For reservations call 301.725.0770.
The signature Belmont Stakes cocktail, the Belmont Breeze, will be available in a souvenir glass for $9 while Black-Eyed Susans and Mint Juleps will be available for $7.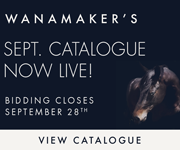 KEEN ICE POSTS FINAL BELMONT MOVE
from a NYRA release
Keen Ice, who will carry the colors of Jerry Crawford's Donegal Racing in the Grade 1, $1.5 million Belmont Stakes, wrapped up the last of his works Tuesday morning when the bay colt traveled four furlongs in 50:20 over a fast Churchill Downs main track.
Tammy Fox, the assistant to trainer Dale Romans, was in the irons when they went out shortly after the track opened and clockers caught Keen Ice in splits of 12:40, 25 flat, and 37.60 and galloping out in 1:04.
Romans said afterward that the easy half-mile was all he wanted his charge to do because he wanted to leave Keen Ice eager and sharp for the race.
After Romans got Keen Ice cooled out, he put him on the same New York-bound airplane carrying Kentucky Derby and Preakness Stakes winner American Pharoah. Both horses are scheduled to arrive on the Belmont Park backstretch mid-afternoon on Tuesday.
Keen Ice, who is by Curlin out of an Awesome Again mare, has the pedigree to stay the 1 1/2 miles of the Belmont although he has never traveled beyond 1 1/4 miles when he finished seventh in the Kentucky Derby after a troubled trip.
The colt is looking for his first win of the year and second overall since graduating from the maiden ranks at second asking last September at Churchill. Romans, who saddled Shackleford to a Preakness win in 2011, will try to capture the Belmont trophy for the first time in six tries. He finished third three times, most recently with Medal Count last year, while Dullahan was seventh in 2012 and "Shack" was fifth the year he followed the Triple Crown trail.
DALLAS STEWART, TALE OF VERVE 'OUT TO WIN IT'
One of the first out-of-town trainers to arrive in New York with his Belmont Stakes contender, Tale of Verve, trainer Dallas Stewart finds himself in a familiar spot heading into Saturday's 1 ½-mile "Test of the Champion."
Over his career, the 55-year-old Stewart has been an upset winner at both the Breeders' Cup and in the Grade 1 Kentucky Oaks but has yet to register his first victory in a Triple Crown race. He had horses outrun their odds to finish second in the Kentucky Derby with Golden Soul in 2013 and Commanding Curve in 2014.
A Charles Fipke homebred, Tale of Verve is Stewart's third straight horse to take aim at the Belmont coming off a runner-up finish in a Triple Crown event. The bay Tale of Ekati colt closed in the slop to be second, seven lengths behind Derby winner American Pharoah in the Grade 1 Preakness May 16.
"We've been good, but we've got to get it done. We've got to march over there and get it done," Stewart said. "I think he's a horse that's really bred for the distance. He can take it. He's got the stamina, he's got the pedigree. I think he's got the ability, so it's going to be a real good race for him. I'm feeling real good about it."
Tale of Verve has one win to his credit in seven lifetime starts, beating older horses in a 1 3/16-mile maiden special weight April 23 immediately prior to the Preakness. He has been training at Belmont since the race, including a five furlong breeze in 59.02 seconds May 30, the fastest of 23 horses.
Tuesday morning, Tale of Verve galloped once around Belmont's 1 ½-mile main track. Gary Stevens, who has won the Belmont Stakes three times (1995, 1998, 2001) in his Hall of Fame career, will ride on Saturday.
"He went easy in the mud, looked good and had good energy. He's eating well and training well," Stewart said. "There's nothing left to do now. We'll just polish it off until the race and see what happens."
Golden Soul and Commanding Curve both finished ninth in the Belmont, in years that had Triple Crown hopefuls, I'll Have Another (2013) and California Chrome (2014). I'll Have Another was retired with an injury the day before the race, while California Chrome dead-heated for fourth.
A victory in the Belmont will make American Pharoah the first horse to sweep the Triple Crown since Affirmed in 1978, and the 12th overall.
"This is my job. This is what I do," Stewart said. "I can respect that they're trying to accomplish and if I don't win it, I hope he does. But, I'm out to win it."