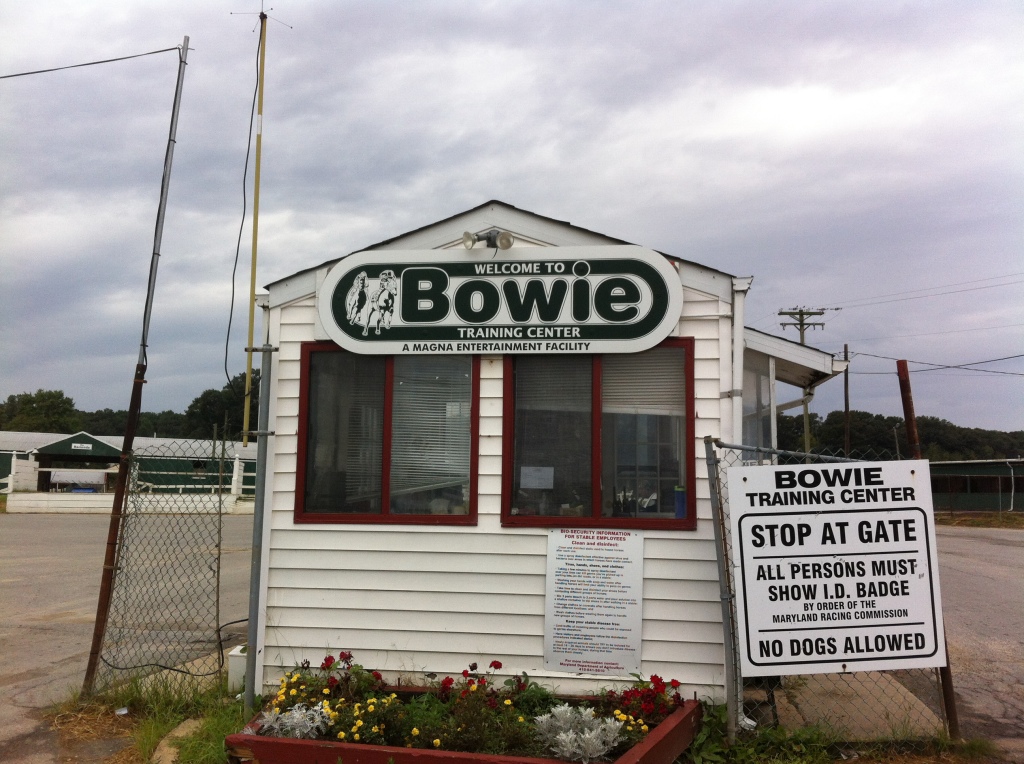 by Ted Black
Nearly 30 years after it hosted its final day of live racing and just over 100 years after it opened, the Bowie Training Center yesterday witnessed its last group of horses galloping over the surface — possibly forever. Around 10 o'clock Monday morning, the last trainees left the track, and the remaining trainers on the grounds cleaned out their offices and tack rooms and relocated to Laurel Park.
Monday afternoon was unusually quiet on the backstretch at the Bowie Training Center as trainers, grooms and security personnel finally braced for the inevitable. The track — which opened on October 1, 1914 for racing, which it hosted until July 13, 1985 — would no longer be a home for hundreds of race horses.
Bowie's future remains unclear. Maryland Jockey Club officials have given mixed signals, with possibilities ranging from shuttering it for good to revitalizing it to serve, once again, as a training center. But most seemed to think that Monday was the end of the line for the place once known as the Track in the Pines, which, as the first northern track to offer winter racing, gave birth to that hard-bitten and hearty species of bettor known as the Bowie breed.
During its heyday Bowie Race Course offered lucrative stakes including the John B. Campbell Handicap, the Governor's Cup, the General George and the Barbara Fritchie and hosted top-flight horses such as Jameela. Kauai King and Big Pistol. Later as a training center it was home to local stars Little Bold John, Ten Keys, Northern Wolf, Captain Bodgit, Dance to Bristol and two Chris Grove trainees, Sweet Goodbye and Greenspring, who won the Barbara Fritchie and the General George, respectively, on the same day.
But Monday afternoon amid the cloudy skies and shuttered barn doors, there was little fanfare for, or from, any of the horses or trainers who departed the Bowie Training Center for the final time. Linda Gaudet, whose husband, Eddie Gaudet, was a fixture on the Bowie backside for nearly 60 years, and their daughter, Lacey Gaudet, who now has a trainer's license and her own small stable, were among the last to leave. Linda Gaudet knew the time was coming, perhaps for several years, but as Monday arrived and the move to Laurel ensued, the reality of the days ahead finally took hold.
"Obviously, I am going to miss being at Bowie," Gaudet said. "Eddie was here nearly 60 years, since the late 1950's and I've been here with him for 42 years, almost 43. We had a lot of good horses come through here, not just in our barn but in all the barns at Bowie. This was a haven for winter racing at one time and some of the best trainers in America were right here. We all knew it was going to close at some point, but you never knew exactly when until they started building the new barns at Laurel. They did a really good job on the new barns over there. We didn't want to move in until everything was finished and Tim Ritvo [Chief Operating Officer of the Stronach group, which owns Bowie, Laurel and Pimlico] made sure it was done right."
Linda Gaudet is taking 15 horses to Laurel, including multiple-stakes winner, Concealed Identity, the only horse that her husband ever ran in the Preakness. Among Concealed Identity's stakes wins was a triumph in the 2011 Find Handicap over the Laurel turf, something of an oddity since Bowie never had a grass course for him to train on. The same could be said for Ten Keys from 25 years earlier, a Michael Pino trainee who won numerous lucrative stakes on the lawn across the country despite never being able to train on the grass while stabled at Bowie.
Another trainer, Pat Magill, who spent the past seven years at Bowie, is headed to Laurel with 13 runners, all of which galloped over the track on Monday morning for the last time. Magill, who had spent 20 years at Marlboro, another track that was once part of the Maryland racing circuit until closing in 1971 and being converted to a training facility, moved to Bowie in 2008 when trainer Gary Capuano relocated to Laurel. Every morning when he arrived at Bowie, Magill was reminded of his predecessor because a surveillance camera installed to monitor Capuano's top trainee, Captain Bodgit, still occupies a spot atop one of the stalls of Barn 16.
"The one thing that I am going to miss the most about Bowie is the hacienda," McGill said, referring to the enclosed exercise facility that is the centerpiece of the stable area. "If it rained or snowed, you could always take horses over to the hacienda and gallop them. I know that's what a lot of trainers here are going to miss. It was always quiet over here. The track was always in great shape. You never had any concerns about taking a horse over. I worked here in the 1970's and 1980's before the bridge was built [across Race Track Road] and I remember walking horses across the street and through the infield. We knew someday we would have to move. But each year you just held out hope that you could stay a while longer."
Trainer Gary Capuano has been at Laurel for the past seven years, but he fondly remembers his days conditioning runners at Bowie. At one time, both he and brother Dale Capuano were based in Barn 16. Dale made the move to Laurel first, but Gary quietly carved out a name for himself until earning a moment in the national spotlight with Captain Bodgit, who won the 1997 Grade1 Florida Derby and Grade 1 Wood Memorial before running second to Silver Charm in the Grade 1 Kentucky Derby and then third behind Silver Charm and Free House in the Grade 1 Preakness in his final career outing. In both the Derby and the Preakness, Captain Bodgit was beaten by a head.
"Those days at Bowie were a great experience," Capuano said. "Those days with Captain Bodgit were a lot of fun. My brother and I had horses there, and my dad had horses over there. We had a lot of good horses and good horsemen over there. It was a great place to train."
Maryland State Senator Doug Peters remembers growing up in Bowie when the track was part of the circuit and then later transitioned to the training facility. He knows how steeply horse racing is entrenched in the city, not only with the race track but also the former Belair Stud Farm, which was home to some of horse racing's greatest runners, including Triple Crown winners Gallant Fox and Omaha, as well as Nashua, the 1955 Preakness and Belmont winner.
"Bowie Race Track turned 100 last year and now is heading into its final turn," Peters said. "Hopefully the land will be preserved and will be able to thrive in the form of parks and recreational facilities. Bowie has always had a rich horse racing tradition through the track and Belair Stables, and hopefully it will still be able to maintain that tradition after all of the horses leave the training center and find homes at other tracks."
[su_youtube url="https://www.youtube.com/watch?v=mq0i88xT3-o"]