by Frank Vespe
It wasn't quite the start to Ben's Cat's 2015 season that a subdued King Leatherbury was hoping for.  But it wasn't totally unexpected, either.
Bold Thunder, the 7-5 second choice, zipped to an early lead and held his rivals safe the rest of the way, posting a three-length victory over the nine-year-old Ben's Cat in the $55,000 allowance heat.  Bold Thunder completed the 5 furlongs on the grass in 57.62 seconds to post his second win of the season and the seventh of his career.  A multiple stake winner, Bold Thunder pushed his earnings past the $290,000 mark.
"Of course, we're a little disappointed, but that was the only speed in the race," said Leatherbury afterwards.  "We just were a little flat at the end, just didn't have our closing kick.  But that's just what it is."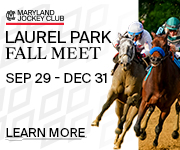 Ben's Cat, under regular rider Julian Pimentel, broke alertly and assumed second place behind Bold Thunder, the expected early leader.  Grateful Nation moved up outside of Ben's Cat to be third after three-sixteenths of a mile, and that trio ran in that order around the racetrack.  Ben's Cat held second by a neck over Grateful Nation.  It was another seven lengths back to season-debuting dirt horse Service for Ten, with another dirt horse, Elevated, in last.
The outcome was a disappointment to an unusually large crowd that had gathered around the winner's circle.  But it wasn't much of a surprise to Leatherbury.
"He never has [run all that well in his season debut]," the octogenarian trainer, up for the Hall of Fame this year, observed afterwards.  "Even though he's been winning the Mister Diz [Stakes, for Maryland-breds], he never come out with a big number to win that."
Immediately after the race, Leatherbury indicated that, assuming no issues arise, Ben's Cat would remain pointed to the Jim McKay Turf Sprint at Pimlico over Preakness weekend.
Leatherbury did not say, however, whether he would wear the same tie.  He was decked out in a Ben's Cat tie, but when asked if his runner's defeat today meant that the tie was not good luck, he demurred.
"No, no, no, I never said that it was a lucky tie," he said with a laugh.
BEN'S CAT GALLERY