We at The Racing Biz are thrilled to announce our new partnership with the Maryland Horse Industry Board.  The Horse Industry Board, created by the Maryland state legislature, seeks to raise awareness of and appreciation for the state's equine history and tradition and to promote equine activities across the state.  Among other things, the organization licenses the state's riding stables, runs a Horse Pals program to encourage children to become involved with horses, and seeks to market the state's equine industry.  Each month, we will hear from MHIB Executive Director Ross Peddicord to learn more about what the Board is up to, and how that impacts the Thoroughbred industry.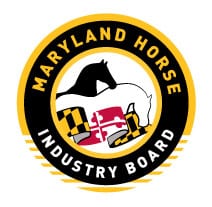 The Racing Biz: Since this is the kickoff of our new partnership with the MHIB, let's start from the start, Ross.  Give us a bit of your background and how you ended up in your role as the Horse Industry Board's executive director.
Ross Peddicord: I've spent virtually my whole life involved with the Maryland horse industry, from foxhunting, showing, riding some amateur steeplechase races and breeding Thoroughbreds for racing and show.  I had a couple of wonderful trainers like Tommy Voss and Ronnie Alfano and if my horses couldn't make it at the track, had relationships with some great horseman like Olympic gold medalist Bruce Davidson who sold them as foxhunters and event horses. Professionally, I worked in public relations at Laurel, Pimlico and Bowie as either PR direcor or assistant PR director and then for 18 years covered racing for the Baltimore Sun. I left the Sun and eventually started Maryland Life Magazine with two other co-publishers.
I first became involved with the Maryland Horse Industry Board at the 2009 Maryland Horse Forum.  I attended with the intent to sell a magazine insert on horseback riding in Maryland — I was with Maryland Life then — and ended up working with a group of nine folks, including the previous MHIB director, Rob Burk, on developing a strategic marketing plan for the state's horse industry.
Then the recession hit and concurrently online competition increased for print publications like Maryland Life. Rob Burk left MHIB, I applied for the position and was hired for the job 4 years ago, in January 2011.
TRB: What is the mission of the MHIB?
Ross Peddicord: We have two principal missions.  First, to regulate and license 760 riding, boarding, rental and rescue stables in Maryland. These stables are found in all 23 Maryland counties and range from multi-million dollar enterprises to small mom-and-pop equine businesses. And second, to promote, build awareness and market the Maryland horse industry. We are a commodities board, somewhat similar to the Irish Horse Board. We also advise the Secretary of Agriculture on equine issues. Our board is comprised of 12 members, 11 appointed by the Governor from a wide variety of equine backgrounds and one appointee representing the Department of  Agriculture.
TRB: What do you think the major obstacles to the growth of the equine industry are?
Ross Peddicord: In 2012 MHIB participated in a study with the Maryland Center for Public Policy to determine the baseline for interest in horses in Maryland. The study found that 44.5 percent of Maryland households were interested in horses, either as a spectator or in participating as a rider. That's nearly one in two Maryland households. That translates into tens of thousands of people. We also found that 14.1 percent of the people living in those Maryland households had either attended a Maryland horse event as a spectator or ridden a horse within the last year. That's still pretty good–nearly one in seven Maryland households.
So the challenge is to engage those 30 percent of Maryland households that are interested but not currently participating — and, again, that means tens of thousands of people — into actively participating in our industry.
How do we do that? By research to find out what will drive these people to become engaged and overcome barriers to entry; cross disciplinary cooperation from all segments of the horse industry; and increased marketing. There is no question people love horses, particularly in Maryland. We virtually have a horse riding stable for every town and village in the state. I think we can lay claim to being the Horseback Riding Capital of America. We have great horse events like the Preakness, Maryland Million, Maryland Hunt Cup, Fair International 3-Day Event, etc. We have the product–now we have to package, market and intensify our efforts to sell it — both to Marylanders and to tourists visiting the state.
TRB: What are some of those barriers to entry?
Ross Peddicord: For many people, there's a perception that horse activities are dangerous, expensive, and elitist.  So some of the challenge is simply to introduce these people to horse activities; that's why we sometimes use the slogan, "Find a horse, find a friend" — to demystify the equine experience.  For tourists, the bigger problem is making them aware of what we have to offer; our state is like a giant horse park, like Ireland, but we don't think of it that way, we kind of take it for granted.
TRB: You mention tourism as being something that could be a powerful force for the growth of the state's equine industry.  How do you think that applies to the Thoroughbred industry?
Ross Peddicord: When I was co-publisher of Maryland Life, I got to know every county and state tourism director and official and sold many of them advertising. I ended up as chair of the Maryland Tourism Council and found that virtually all of these folks had a connection to horses. In Maryland, it is endemic in our culture, very much like Ireland and the United Kingdom. It's really no surprise–Maryland was settled by the English Cavaliers from Yorkshire, and the first three English Royal Governors all had racing horses. By the late 1700s, there were nearly 100 racetracks in Maryland.
The Preakness is one of Maryland's largest tourism attractions. It boosts the Baltimore economy by $40 million each spring. Then there is the Maryland Million, which draws visitors to Laurel; the Fair Hill Races, which is the biggest one-day sporting event in Cecil County: and the spring series of steeplechase races, which draw thousands of spectators to Harford, Baltimore, Howard and Montgomery counties. There are a couple of new events that have popped up, like the Decanter Wine Festival at Pimlico in April and Racing Under Saddle exhibitions at Ocean Downs and Rosecroft. Although it's Standardbred, not Thoroughbred racing, one can't forget Ocean Downs and the impact it has as a player in the Ocean City tourism industry. The annual attendance at Ocean Downs ranks the track among the Top 10 harness meets in the country.
TRB: So how do we turn all of these great events into something that boosts and benefits from tourism?
Ross Peddicord: Approximately 55 million tourists come to Maryland and the DC area each year.  That represents a huge opportunity for our industry.
We have the exact same product here as in Ireland, which is an example of a great international equine tourism destination.  We have 35 different equestrian disciplines in Maryland, ranging from racing to rodeo, polo to pony rides, jousting to Grand Prix jumping. They have the Irish Derby, we have the Preakness; they have the Dublin Horse Show, we have the Washington Horse Show; they have Punchestown 3-Day Event, we have Fair Hill International 3-Day Event; they have numerous county horse fairs and festivals, we have the Md. State Fair with 10 continuous days of horse races and shows, and 23 county fairs, most with horse shows, pulling contests and rodeos. Ireland has pony trekking–we have 35 trail riding stables, 2,000 miles of public access horse riding trails and now 35 Horse Discovery Centers.  They have great foxhunting– we have 12 foxhunting clubs, including some of the best packs in the world.
If we can package and market our phenomenal equine product as a "Total Maryland Horse Experience"– partner with State Tourism, the Department of Natural Resources, every tourism office in every county of Maryland, private tour operators, etc.– and be a constant, consistent, branded presence year round, then there is no reason we should not be able to capture an increased share of the tourism market and dollars.