by Frank Vespe
Trainer Jerry Thurston became the fourth trainer racing at Laurel Park to be suspended for stanozolol in the last week today when the Maryland Racing Commission stewards slapped him with a 30-day sentence and a $1,000 fine, the stewards said today.
The infraction occurred December 12 when Home of America, whom he trains for June Thurston, won a $5,000 claiming races for horses that had never won two races.  As a result of the positive, Home of America was disqualified from the race and placed last.
Thurston also was assigned four points under the multiple medication violations point system.  Those were the first points he has incurred.
On January 30, the stewards had reported penalizing three other Maryland-based trainers — Hector Garcia, Scott Lake, and Ferris Allen — for stanozolol positives.  Those suspensions ranged from as little as 30 days, with 15 suspended, for Allen all the way on up to more than one year in the case of Garcia.  Allen had had a single positive, while Lake had two and Garcia had three, plus a positive for the sedative xylazine.  Separately, the Maryland Jockey Club had asked Garcia and his boss, Juan Vazquez, to vacate MJC property.

Stanozolol, an anabolic steroid formerly marketed as Winstrol, was permitted to a threshold level in Maryland until mid-October.  Now, any trace of the substance in the bloodstream will trigger a positive; it has a long and somewhat variable withdrawal time, with some horses continuing to show traces of it more than 40 days after withdrawal, while others may test clean in as little as 20 days. Sources have said, however, that some veterinarians continue to prescribe it for therapeutic purposes.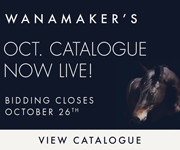 According to thoroughbredrulings.com, it was the first ruling of any sort against Thurston since 2011 and his first medication violation since 2010.
Thurston, who has been training since at least 1976, enjoyed his best season in 2000 when his horses won 33 races and more than $400,000.  However, since winning 12 races in 2007, he has not won more than nine in a season since.  Last year, his horses won two of 23 starts and earned less than $42,000.
Thurston did not immediately return a call seeking comment.