RACES by track
Monmouth Park — 17/ 2 Grade 1
Parx Racing — 8/ 1 Grade 1
Pimlico Race Course — 8/ 1 Grade 1
Delaware Park — 5/ 1 Grade 1
Colonial Downs — 4
Charles Town Races — 2
Laurel Park — 2
Penn National — 1[/boxify]
Forty-seven races conducted at the core mid-Atlantic racetracks will be graded in 2015, says the American Graded Stakes Committee of the Thoroughbred Owners and Breeders Association.
That represents just more than 10 percent of the 463 graded races conducted in the United States.
Two of the region's races moved from ungraded status up to Grade 3.  Those were the Miss Preakness, a six furlong sprint for three-year-old fillies conducted at Pimlico; and the Penn Mile, a grass race for three-year-olds.  Two others — Laurel Park's City of Laurel for three-year-olds and Penn National's Fabulous Strike for three-and-up — moved from unlisted to listed.

Two other races — the Delaware Oaks for three-year-old fillies and the Molly Pitcher, for fillies and mares three-and-up conducted at Monmouth Park — both dropped from Grade 2 to Grade 3 status.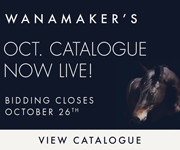 In addition, a slew of other races — the Lady Charles Town Stakes at Charles Town; the Blue Hen, Dover, Endine, and Sussex Stakes at Delaware Park; the Serena's Song and Skip Away at Monmouth; the Trevose, Sleigh Ride, Philmont, and Changing Times at Parx Racing; and the Capital City and Jenny Wade Stakes at Penn National — were, for various reasons, not eligible for grading this year.
Five of the region's races, headed by the Preakness Stakes at Pimlico, are Grade 1 events.  The others are the Haskell Invitational and United Nations, both at Monmouth Park; the Cotillion, at Parx Racing; and the Delaware Handicap at Delaware Park.
Four of the region's graded races take place at Colonial Downs.  With that track closed during 2014 — and no solution yet on the horizon for 2015 — those races are in a precarious position and will lose their status if not conducted in 2015.  They include the Grade 2 Virginia Derby and Colonial Turf Cup and the Grade 3 Virginia Oaks and Edward P. Evans All Along.
From a National Perspective
One segment of the racing industry remains remarkably resistant to the bad news that plagues the rest of it: graded races.

Though the number of races run in the U.S. has declined more than 25 percent since the grading system began in 1974, the number of races receiving a grade has risen by a whopping 40 percent.

And, despite declining foal crops, the number of races that makes the grade continues to rise.  For 2015, the number of races receiving a grade will rise by eight, or a little less than two percent.

When the grading system began — for the 1974 season — there were 330 graded events, according to the Thoroughbred Owners and Breeders Association.  For 2015, 463 races make the grade — an increase of 40 percent.

That might make sense if the number of races also were rising, but it's not.  In fact, the number of U.S. races hit its peak in 1989 and has been on a steady downward march ever since — down over 41 percent in that period.  Since 1974, the number of U.S. races has declined from an estimated 57,000-plus to 43,139.

Put a different way: the percentage of graded races has approximately doubled since the program started.

They're still hard to get — representing a little  more than one percent of all races — but nowhere near as difficult as they once were.  Maybe it's just part of  the "trophies for all" syndrome.

[boxify cols_use ="4″ cols ="9″ position ="right" box_spacing ="5″ padding ="3″ background_color ="gray" background_opacity ="10″ border_width ="1″ border_color ="blue" border_style ="solid" height ="280″ ]GRADED