From a Maryland Jockey Club release
Sylvia E. Heft's Eighttofasttocatch was the easy winner of today's $125,000 Jennings Handicap, the final start of his storied career. In doing so, Eighttofasttocatch retires a millionaire.
Forest Boyce returned from riding at Fair Grounds to hold the reins aboard the Tim Keefe trainee, who was winning the Jennings for the fourth time.  With the win, the 8-year old moves into 19th place on the list of Maryland-bred millionaires, ending his career with $1,072,970 in earnings.
This was his seventeenth lifetime win, fifteen of which have come at Laurel Park. Among his many victories are three wins in the Maryland Million Classic. He has won twelve stakes overall.

This afternoon, Eighttofasttocatch broke well from the two post and within several strides had raced to the lead. He extended his advantage gradually and at the wire he was 10-3/4 lengths in front of Larry Le Roi, with Concealed Identity taking third. His winning time for the one mile distance was 1:36.70 over the sloppy main track.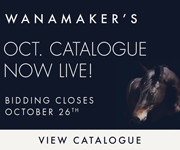 "He got off just a little slow," said Boyce. "It's a different situation when you have a horse like this under you. I asked him a little early, which isn't the usual, but he was very settled and we stayed close to the top of the lane. I just chirped to him and he took off. This is such a great feeling for me today. He's been such a cool horse. The most important thing for me today was that he goes out with a win. You don't get to be with one horse all the time with so many tracks running at the same time but we have stayed together and he is my true teammate. It's going to be really had to not have him to ride any more. I want to thank Tim and his whole staff. They all do such hard work to make this happen."
Eighttofasttocatch will return for a winners' circle retirement ceremony at Laurel Park next Saturday. He will then move on to Keefe's Montgomery County farm and start a new career as an event horse.
"It's bittersweet," said Keefe. "I won't see him here but I'll see him at my farm. I will miss the great owners of mine, that connection, and the horse training in the morning. He ran the way I hoped and thought. This is a horse that will run on anything. She didn't rush him out of the gate. Once I saw him around the 3/8ths pole, she was just perched up there and the others were backing up. I was pretty confident."
Eighttofasttocatch was a very popular winner, returning $2.60 to win.