From a Maryland Jockey Club release
The Stronach Group announced today that Tom Chuckas, President and Chief Operating Officer of the Maryland Jockey Club, has resigned his position with the company, effective November 30.
Chuckas joined the Maryland Jockey Club in May 2008. Over the years, he has led the effort to develop a long-term plan to bring stability to horse racing in the state of Maryland. He has also played a pivotal role in rebranding the Preakness Stakes which saw record-breaking attendance for 2014.
"It has been a great personal pleasure working with the entire team at the Maryland Jockey Club," Chuckas said. "Racing in Maryland is positioning itself for tremendous growth opportunities and I hope for nothing but success in the years to come."
Frank Stronach, Founder of The Stronach Group, stated, "Tom has been a valuable part of our team over the past six years as the company has worked towards developing a strong foundation to restore Maryland's racing industry. We very much appreciate his contributions and wish him the best in the next phase of his career."

The Stronach Group and Chuckas are in negotiations regarding the transition of his responsibilities in the company moving forward.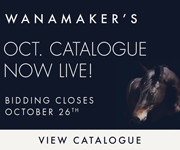 The Stronach Group is also announcing that Salvatore "Sal" Sinatra has been appointed Vice-President and General Manager of the Maryland Jockey Club and will join the company on December 1. Sinatra has been involved in the Thoroughbred racing industry for over 20 years. He previously held the position of Director of Racing with Parx Racing, formally Philadelphia Park, since 1999.
"I am very glad to welcome Sal to our company," said Tim Ritvo, Chief Operating Officer of The Stronach Group. "His knowledge and expertise in racing operations will be a great benefit to both Laurel Park and Pimlico Race Course going forward."