In this Thanksgiving week series, we'll recount some racing things for which we're thankful.
by Frank Vespe
Why should football fans have all the fun?

Sure, Thanksgiving Day is about food, families, and football — but plenty of tracks host live racing Thanksgiving Day, too, and that's another thing for which we are thankful.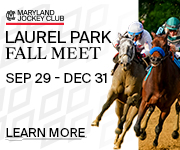 Only one mid-Atlantic track — Laurel Park — will hold a live card on Thanksgiving Day, a matinee kicking off at 11:05 a.m., all the better to get you home for a late feast (if, that is, you've managed to sneak away while leaving someone to cook the meal!).
It's a relatively nondescript card.  It begins with cheap maidens and ends with nickel claimers, and in between, well…
And elsewhere, though there are a smattering of stakes — the Fall Highweight at Aqueduct and the Falls City at Churchill among them — the cards are pretty middling.
But that's hardly the point, now, is it?
Because, if form holds, one of the meet's bigger crowds will scarf up free donuts and coffee early and then stick around to drink beer and wager before trickling out later in the card, heading home.  Everyone's in a good mood because, hey, it's Thursday and you can drink and gamble during the morning and early afternoon before eating yourself into submission later on, and how can that be a bad thing?
I've visited the track on more than one Thanksgiving — once, in fact, to cheer for a horse we owned, who won, which made for a happy Thanksgiving, indeed — and always found it one of the year's more interesting racing days.  On the one hand, a bigger than usual crowd makes for a more festive atmosphere.  Add to the typical Thursday cast of characters the newbies who come out, the guys looking to have a couple of pops and maybe to cash a ticket before facing their families, the folks who have a once-a-year tradition of heading to the racetrack.
At the same time, though, being at the track on a holiday has a vaguely taboo feel to it, as if you'd had to sneak out without anyone knowing it, or perhaps had received a special, one-time Papal dispensation, but don't let it happen again.
You shouldn't be in this place, doing these things, you think.  It's, you know, wrong; but, yes, fun, too.
Don't get me wrong.  You don't have to drink and gamble.  You can come out and admire the beauty of the Thoroughbreds, the athleticism of the jockeys, the commitment of the backstretch workers.
On the other hand: would one little bet be such a bad thing?
See you at the windows!