In the latest edition of our weekly feature with Maryland racing analyst Gabby Gaudet, she scopes out a Pick Three centered on the De Francis Dash.
RACE 7

The skinny: An allowance/optional claimer for horses that have never won three other than going 1 mile on the turf.
Notably: Depending on scratches, most of the major players in here have seen each other recently, either in the Lady Baltimore or in the Maryland Million Ladies.

Gabby's take: "I really, really like #9 Monster Sleeping.  I thought she ran really well in the Jameela two back, just losing to Madame Giry, who's a serious racehorse, and I think she's going to bounce back in here after a subpar outing in the Maryland Million Ladies.  I also like #8 Perfect Measure.  On the stretch out from sprinting, she should be close to the pace, which has been the place to be on the turf recently.  And her best — she was just second to Ageless in the Very One back in May, and Ageless ran lights out to be fourth in the Breeders' Cup two weeks ago — is good enough to win this."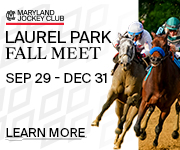 And don't forget: #3 Pagan Priestess, who defeated similar last out; or #4 Misty in Malibu, who finished just behind Pagan Priestess and will be the favorite unless #12 Paddle Board draws in.
[boxify cols_use ="3″ cols ="6″ position ="right" box_spacing ="5″ padding ="3″ background_color ="gray" background_opacity ="10″ border_width ="1″ border_color ="blue" border_style ="solid" height ="202″ ]GABBY'S
 TICKET
Race/Horses
  3, 4, 8, 9
  3, 5, 6
  1, 3, 8
Ticket cost: $18 ($0.50 unit)[/boxify]
RACE 8
The skinny: $350,000 Frank J. De Francis Memorial Dash, 3yo and up going six furlongs on the main track
Notably: Killer field has attracted six graded stakes winners, including G1 winner Dads Caps, who is favored.
Gabby's take: "My top pick in here is going to be #6 Bern Identity.  His Beyers are a little light for this group — his best recently is a 95, while several others have been as high as 105 — but I feel like he's proven he can win from off the pace, and I think that's where you'll want to be in this race.  I was a little worried after he ran three stakes in 35 days following a long layoff — the last of which was the Dave's Friend here, when he was really, really good — but then he ran really well in the G3 Phoenix at Keeneland to be beaten just three lengths.  The winner, Work All Week, came back to win the Breeders' Cup Sprint."
And don't forget: #3 Favorite Tale, the three-year-old who's coming in fresh off a strong effort in defeating Fast Anna in the G3 Gallant Bob at Parx, though he may have benefited from a rail bias that day; and #5 Dads Caps, the winner of the G1 Carter who was also G1-placed in the Vosburgh but who is winless outside of his home track of Aqueduct.
RACE 9

The skinny: First-level allowance for older horses going 1 1/16 miles on the main track.
Notably: Continuing the theme of the day, the race has attracted a big field with an ultra-tepid favorite.
Gabby's take: "I find #3 Jazzy's Quattro extremely intriguing.  It's the first race off the claim for new trainer Wayne Potts.  I thought his last race — a win — was a pretty good effort against a field that wasn't bad.  Two of those horses came back to run second next out.  And I feel like if Potts can improve this horse at all, he'll have a big shot at a fair price.  I'm also using #8 Larry Le Roi.  He's kind of a quirky horse, sort of has an attitude, but he appears to be maturing and improving.  His maiden special weight win was legit, and I though he ran well last time going a mile; the talent is there, and I think two turns should work for him."
And don't forget: #1 Segovia, who won at first asking but hasn't won since.  He's run some decent races, though, and Daniel Centeno gets aboard; he needs a pace to run at but could be around late if he gets one.
"Good luck!"
(Featured image, of Ben's Cat, by Laurie Asseo.)