From a Maryland Jockey Club release
Laurel Park's sixth race saw three horses and riders involved in a spill.
Closing in on the far turn in the 5-1/2 furlong test for $35,000 claimers, Midnight Music broke down and sent his rider Alex Cintron hard to the ground. Miner's Quest, just to his rear, stumbled over the fallen horse and tossed Christian Santiago Reyes, who did a somersault before landing on the track. Livonzin and jockey Abel Castellano were somehow able to leap over their fallen rivals.
Cintron was removed from the racetrack by ambulance and taken to University of Maryland Shock Trauma Center in downtown Baltimore for x-rays for facial trauma. Maryland Jockey Club medical director Dr. Harry Harris indicated Cintron, who is tied for sixth in the Laurel fall standings with 21 winners, may have suffered a broken jaw.

Reyes quickly got up and lended assistance at the site of the spill. Harris treated him on-site for an abrasion to the left knee.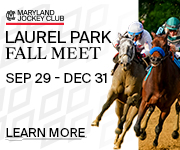 Midnight Music was humanely euthanized. Miner's Quest got up and ran off but was quickly captured.
Twelve Stone ($33.40) won the race, one of two by trainer Claudio Gonzalez on the afternoon. Gonzalez moved into first place in the trainer standings with 18 victories, one more than Mike Trombetta and Hamilton Smith.