In the fifth of his weekly series, Handicapping Zen, handicapper and author Bobby Zen examines the art and science of handicapping horses. by Bobby Zen
Trip handicapping is a specialized form of trying to pick the potential winner and contenders in a race. The review is typically done on each contestant in an upcoming race with most of the attention on the last outing, but it can go two or three or more races back.
[boxify cols_use ="3″ cols ="6″ position ="right" box_spacing ="5″ padding ="3″ background_color ="gray" background_opacity ="10″ border_width ="1″ border_color ="blue" border_style ="solid" height ="220″ ]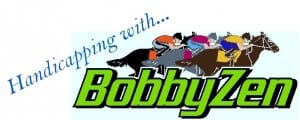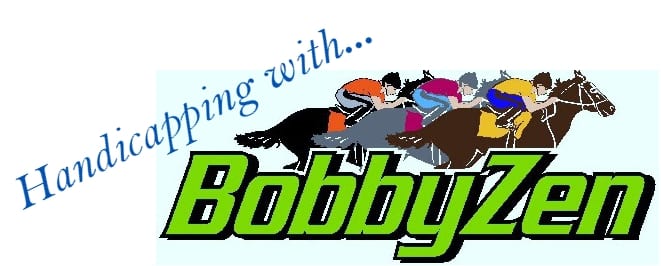 SERIES SIGNPOST
LAST WEEK: Trainers and jockeys
TODAY: Horses and trips
NEXT WEEK: Risk tolerance[/boxify]
Many handicappers look for a horse that had "trouble" in his last race; bumped, steadied, broke in air and the like. The trip handicapper goes much deeper than that, looking for specifics into the running of that last race, and what exactly happened throughout the race. This would be from the opening bell all the way through the finish line and even during the gallop out after the race.
You don't get much of this information from the print past performances, so for this style you need to have seen the race live or on replays (probably more than once) and made your trip notes. You can get some of this info from charts, also.
There are a multitude of scenarios that can come out of trip handicapping a race. An example could be that the #1 broke slowly, spotting the field about four lengths (at each scenario the handicapper uses a time or length lost measurement). The jockey kept him wide down the backstretch, moved him through traffic on the turn, and then got caught behind four horses at the top of the stretch. He swung three wide in mid-stretch to finish second by 1.5 lengths. The horse galloped out well for two furlongs and returned in sharp shape.
Depending on the handicapper's choice of measurement, he might decide that the horse could improve by six lengths, or 1 1/5 seconds at six furlongs the next time out. The handicapper would repeat this process for all contenders to come up with a potential winner of today's race.
I am not a sharp "trip handicapper," but I do make notations on all races I watch, which I retain for future reference. So, this information might become a part of my handicapping the next time a particular horse runs. Once again, the lesson is that horse racing betting is not all fun and games, but a business that requires serious homework and preparation.
Many of the information services have a "horses to watch" list that is extremely useful for this purpose. Just be advised that horses on the watch list are not guaranteed winners, but worth a hard look next time out.
Using bloodlines to handicap is also a specialized area, with the 'capper possibly going back many generations to find a potential winner of a race. Pedigree handicapping can be particularly valuable in identifying overlooked horses in maiden races, particularly first-time starters and horses trying something new (the turf for the first time, for example) Individuals may keep their own records, or use services to do the homework. I use the Sire Stats (provided by Brisnet) that give a fairly simple rating system on stallions with a rating that ranges from A+ to F in several categories. I do not go very deep on this one, using it mainly for maidens and horses trying new surfaces for the first time. This train of handicapping can definitely go much deeper than what I do, as it is basically a "spot play" for me.
Being able to make a solid visual assessment of a horse while in the paddock or warming up on the track, or even getting ready for the load in the gate, requires a different skill set altogether. This is definitely not one of my strong suits, even though I think I have a pretty good handle on what I'm supposed to look for.
Some of the basic good signs in the horse are:  general well-being, good definition, bright-eyed, shiny coat, fluid gait, and maybe a slight prance. Some bad signs might be: overly sweaty (washed out), looks sluggish, won't load in the gate, and breaking through the gate.
There is another one that might be called horse profiling, which probably goes hand in hand with trip handicapping. This one involves having a "book" on the horse; an understanding of what he typically looks like, as compared to today's appearance. That's an even more powerful tool than simply looking at horses in the paddock or warming up, because it gives the bettor a baseline with which to compare what he sees today.  Some horses — remember Shackleford, for example — are prone to becoming over-excited before their races — yet still run very well; with others, becoming over-excited might be the worst possible sign.  Knowing the difference can be a huge edge for the astute handicapper.
Now that I've exposed my soft underbelly on the things I don't excel at, next time we talk about risk tolerance and how we make decisions.
Bobby Zen holds an MBA and is a professional handicapper and author.  His win percentage has exceeded 40 percent in each of the last five years.  Learn more at www.bobbyzen.com. (Featured photo by Laurie Asseo.)