by Teresa Genaro
The first time Roadhog ran in the Maryland Million Turf, in 2011, said his trainer Lizzie Merryman, nobody really expected him to win.
And he didn't, finishing seventh, though as the narrow second choice, he had obviously garnered the support of a large segment of the wagering public.
But on Saturday, when Roadhog goes to the post for the fourth time in the race, as the two-time defending winner, expectations might be a little different.

"The pressure's on," said Merryman this week. "A little bit."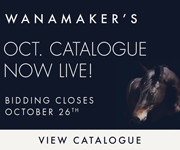 Merryman has been Roadhog's trainer since 2011, when he was a four-year-old; owner Ellendale Racing wanted to get him off the Parx backstretch, where he'd been stabled, and into the turf-friendly atmosphere at Fair Hill, where Merryman is based.
"I was a little nervous training him in the beginning," Merryman admitted. "He was coming off a successful season with [trainer] Ned Allard, and I didn't really know how he'd react to me and the new surroundings. It was kind of a big act to follow, and it took us a while to get in sync."
And "in sync," at least according to Roadhog, means a very clear picture of exactly who's in charge.
"He's a neat horse," said Merryman. "He has a very strong mindset about how he thinks things should go. He's a pleasure to be around, and smarter than most people I know."
And it seems unlikely that he'll let you forget that.
Like many of the horses at Fair Hill, Roadhog gets turned out every morning.  Unlike them, he sets the turn-out schedule for the Merryman barn.
"If he's not the first turned out every morning," said his trainer, "he'll kick the barn down."
"He has to graze on the way back to his stall," she continued. "He has to have mints before he trains."
He also can't wait to get to the track in the morning.
"He whinnies down the shedrow if you're bringing the bridle," Merryman recounted. "He marches to the track like he's going to the feed tub; he just zooms out there. And once he gets out there, he loves to stand and watch the other horses train. He'd watch all day."
Merryman rides him herself most days, though owner Dr. Dale Schilling — the Dale in Ellendale, with his wife the Ellen — says that she might not make the best exercise rider for him.
"She can't breeze him, because he's got her figured out," said Schilling with a laugh. "He knows there's no reason for him to go fast when she's on him; he knows it's just a work, not a race."
And when he heads home to Schilling's Ambler, Pennsylvania farm for the winter, he takes charge just as he does at Fair Hill.
"I can't lead him because he'll stop wherever he wants," said Schilling affectionately. "It's a long walk to his field, and if he sees any kind of grass, he stops. I hate to get after him–and it doesn't do any good—so I just stand there like a big dope and let him do what he wants."
A Pennsylvania homebred gelding by Bowman's Band out of Little Wing, by Allen's Prospect, Roadhog has been willful from the start, which is how he got his name.
"He was a big horse even as a baby," said Shilling. "He was the biggest and the pushiest, and always the first at the fence. He was always, 'me first, get out of my way.' He was a big road hog."
The chestnut gelding had his final breeze for the Turf on Monday morning, a 4-furlong move in 49.40 for which Merryman was aboard and that she said went well.
"I haven't breezed him very much this year, but I felt like he was pretty sharp this week, pretty fully of himself, and he'd be fine with me on him," she said.
"Now, I'm crossing my fingers for the weather. He's a little picky, and if it's too soft, he doesn't like it that much. He's won a couple of races when it's been softer, but he's also put in some real clunkers on soft turf."
One of those off-going starts was his first Maryland Million Turf, in which, said Merryman, he ran well despite finishing eighth.
"It was really soft," she recalled, "It poured rain all day and it was really, really yielding."
She's also hoping for cool temperatures, as the horse who had no trouble making his preferences known isn't a fan of hot weather.
"He's always a little intense at the races, no matter what," she explained. "He gets really sweaty no matter what the temperature is. He's just one of those horses that sweats up in the paddock, and I think he probably does better when it's cooler."
Roadhog is 3-1 on the morning line and faces the always formidable Ben's Cat, favored at 8-5, whom he defeated in this race by a neck last year.  The weather forecast is dry and sunny, with temperatures in the high 60s.  Talk Show Man, recently second in the Cape Henlopen to subsequent Grade 1 Arlington Million winner Hardest Core, also lurks.
If Roadhog gets his third straight win in the race, it will be his second win from seven starts this  year; he's had some tough trips this year, finishing second three times, each loss by less than a length, and his record doesn't dampen either his trainer or his owner's faith in him.
"He always tries," said Schilling.  "Knock on wood, he never throws in a bad one. He gives it all he's got."