In the second of his weekly series, Handicapping Zen, handicapper and author Bobby Zen examines the art and science of handicapping horses.
by Bobby Zen
[boxify cols_use ="3″ cols ="6″ position ="right" box_spacing ="5″ padding ="3″ background_color ="gray" background_opacity ="10″ border_width ="1″ border_color ="blue" border_style ="solid" height ="220″ ]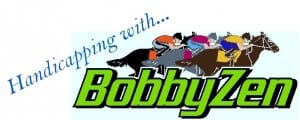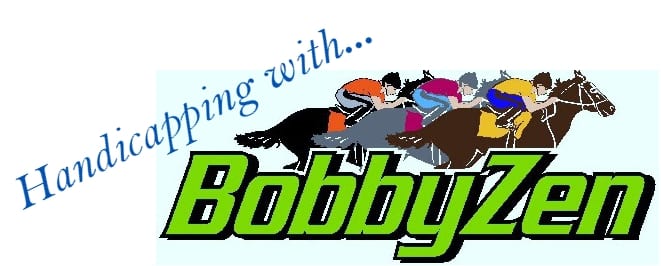 SERIES SIGNPOST
LAST WEEK: How do you handicap?
TODAY: Speed and Pace
NEXT WEEK: Conditions and class[/boxify]
For many players — especially the guy at your local simulcast place playing nine tracks at a time — speed and pace are the cornerstones of handicapping.
Yet these two concepts have evolved dramatically over the years, especially the last ten or fifteen. Up until the 1990's or so, all pace and speed numbers were figured manually by the individual handicapper from run times and run positions in the past performances. Now, depending on your source for past performance information, these numbers are readily available in those pp's. How much and in what way you use them is still an individual preference.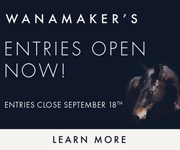 For me, I'm not a speed handicapper and very seldom think we can land on the winner strictly from those numbers.  That's not to say I ignore them, however; speed figures provide genuinely useful information we can incorporate into our approach to the game.
Incidentally, I use Brisnet for my handicapping info, primarily because their products line up best with my handicapping style. Though I stay away from calling my process a system — because, really, being flexible and able to adjust on the fly is one of a handicapper's most important attributes —  I do have a 20 point list of things that I always check as I am handicapping, as well as a Contender Checklist for recording my findings, and I use percentages when applicable. I'll be covering most of these points through the course of this article series.
So, pace numbers (according to Bris) typically cover several aspects, including a first call pace rating, a second call and a late pace number. There are also 'race shape' numbers that are designed to tell us if it was a slow, normal, or fast pace type race. I find these race shapes quite helpful in sorting out what that pace really looked like in a race. Many 'cappers work on the premise that the pace will dictate the final speed rating (pace makes the race). There is also an average pace number for each horse in the Race Summary, along with a 'best pace' rating from the horse's historical running lines.
I am not a pace handicapper, but use these numbers for a few different things. One is the obvious, which is to validate if there is a lone speed or lone closer in a field. The second is to begin to get a feel for how this race should play out.
One of my own instructions is to "run" the race beforehand, trying to see if any horse has particular advantages. I am also trying to decide what should happen during the course of the race. If I do this properly, I will be doing a lot less blaming jockeys, trainers, stewards, other bettors, and so on (if you know what I mean).
At the same time, remember what I said earlier; if I get four or five races that run completely different from my expectations, I am done for the day.  Some days — no matter how good you are — your handicapping tools won't work, and in my opinion, it's better to keep your powder dry for another day.
I use the past performance information in chronological order for the most part, placing more importance on the most recent efforts. I will look all the way back at the ten races listed for other clues, but still place more weight on newer ones. I have a pretty strong belief in form cycles and I think most horses are either improving or declining with each race.
So, speed ratings are used in several ways in my scheme of play. Looking at my (Bris) Race Summary, the last four speed ratings are listed for each runner. I am looking for increasing speed ratings as a good sign, decreasing ratings as a poor one. I am also comparing all speed ratings to see if any horse's last two are better than all other competitors; I call this a double-advantage. The same thing goes for three that are better, or a triple advantage. The best one to find is a five point (or better) margin in the racing speed average category. This one is a usually clear bet for me, if odds permit (more on betting later).
Another handy piece of info for me is a back speed listing that gives the best speed rating for each horse in the past year, at this distance and surface. For older horses, improving form can mean that they might run back to that number today.
What's it all mean?  Speed and pace ratings are a good place to start your handicapping — but I'm a strong believer that they tell only one part of a complex story.  To learn the rest of it, we'll need to look into some additional tools.
Bobby Zen holds an MBA and is a professional handicapper and author.  His win percentage has exceeded 40 percent in each of the last five years.  Learn more at www.bobbyzen.com.
(Featured photo by Laurie Asseo.)