Work on the backstretch in Maryland?
Or on a farm?  In a vet's office?
Looking to further your education?
If so, the Maryland Racing Media Association has a program for you!
Once again, the organization will offer more than $20,000 in scholarships to worthy members of the Maryland Thoroughbred industry looking to further their education.
The MRMA scholarship program has for many years assisted members of the state's racing community in advancing their educations.  Many of those who've participated in the scholarship program have gone on to fill prominent roles in the Thoroughbred industry locally and around the nation; their number includes Maryland racing analyst Gabby Gaudet and New York analyst Maggie Wolfendale.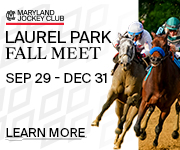 The Maryland Racing Media Association was founded in 1937 as the Maryland Racing Writers Association to "lend every effort toward the betterment of the turf."
Deadline for scholarship applications is September 6.
For more information, including the application form, click here.