This is the third Saratoga "Spa Diary" for The Racing Biz, as we check in with various Mid-Atlantic horsemen and women who are spending the meet at the Spa.
by Teresa Genaro
On a backstretch with no shortage of beautiful spots, Graham Motion's Herringswell Stables sits in one of the best. Shaded by Saratoga's famous trees, it lies just off the far turn, with a photographer's dream view of the horses out for morning works, or racing in the afternoon.
Steps beyond the horsepath sit a table and chairs in the barn's trademark blue and red, the stable's name emblazoned on the table, perhaps just in case anyone thinks it might be a nice addition to his backyard (and who could blame him?).

Graham Motion has been coming to Saratoga since at least 1998, when he got his first stakes win here with Secret Firm in the Grade 3 Amsterdam (who also won that year's Grade 2 King's Bishop). Eliseo Ochoa wasn't here that summer, but he was already with the barn, back home in the Mid-Atlantic, having begun working for Motion the previous summer.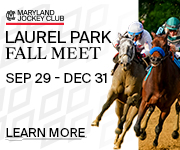 A native of Zamora, Michoacán in Mexico, Ochoa worked for a number of well-known trainers before coming to the Motion barn: Gary Contessa, Ferris Allen, John Forbes. He started out at Laurel, and his circuit has also included New Jersey, Delaware, Florida, Kentucky, and, for the last seven years, Saratoga.
Last Saturday, near the end of the morning, he stood on the grass outside the shedrow, holding multiple graded stakes winner Inimitable Romanee. Later that day, she would run ninth in the Fasig-Tipton Waya Stakes.
A few steps away, Rafael Fernandez is on one end of a shank, Grade 2 Delaware Oaks winner Fortune Pearl on the other. Fernandez has been with the Motion barn since 2000 and a U.S. resident for 27 years, getting his start on the track in New York, where his father worked for trainers Steven DiMauro and Ramon "Mike" Hernandez. The barn foreman in Saratoga, Fernandez also hails from Mexico.
The men live on the backstretch, and their Saratoga world is largely confined by the boundaries of the racetrack property. The Racetrack Chaplaincy and Backstretch Employees Service Team organize shopping trips and backstretch activities, including weekly dinners, soccer games, and movies, much of it funded by Saratogians John Hendrickson and Marylou Whitney.
"When the football was on," said Alice Clapham, one of Motion's assistant, "Eliseo watched all the World Cup. He's a huge soccer fan."
Enthusiastic if not voluble, Ochoa speaks English a little diffidently; some of our conversation was conducted through a translator. Fernandez is more confident, the result, perhaps, of his added responsibilities at the barn, or maybe it's the other way around.
A former groom, Ochoa now walks hots and is a night watchman; he started working with horses at age 18 at home in Mexico, with a horse he got from his father. His son Guillermo works for Motion, too, with the barn's Presque Isle string this summer.
Despite the rigors of the job and of the travel, Ochoa lights up when he talks about his summer.
"I like everything about Saratoga," he said through a translator. "It's beautiful, Saratoga."
So beautiful that he wants to make it an adopted home, putting it on a par with his homeland when he can cut down on his travel.
"No more Florida," he said. "No more Kentucky. No Maryland. Mexico, and Saratoga."
It's a cliché to talk about the love that backstretch workers have for their charges, one that overlooks or ignores the challenges of life on the backstretch. But neither man talks about those challenges; neither man talks about the hard work, the rudimentary accommodations, the heat, the long hours.
They talk, instead, about their favorite horses: Better Talk Now—but they call him "Blackie," his barn name–who won the Sword Dancer here in 2004 and finished second in 2008 and 2009, the latter the last start of his career, as well as winning the 2004 Grade 1 Breeders' Cup Turf. Film Maker, who won the 2003 Lake George, and placed in other grassy Saratoga stakes (and achieved Grade 1 glory in the Queen Elizabeth II Challenge Cup at Keeneland). Adriano, who broke his maiden here in 2007 (and later won two graded events). Bullsbay, who won the 2009 Grade 1 Whitney.
Perhaps, then, it's no surprise.  When asked why he does what he does, why he came to the backstretch all those years ago, why he supports his son following in his footsteps, Ochoa answered simply.
"The horses," he said. "I like the horses."