by Frank Vespe
In the aftermath of Bayern's eye-catching romp in yesterday's Grade 1, $1,000,000 Haskell Invitational at Monmouth Park, there were more than a few excited people.
Winning trainer Bob Baffert and owner Kaleem Shah, for example, who now have a sophomore who could be a contender in any number of important races going forward.
Don't forget jockey Martin Garcia, who picked up the mount from the injured Gary Stevens.  "I knew I was on a really good horse," he said after the race.  But this good?

You might even throw in those who wagered on the dark bay or brown colt, who took home a tidy $11.40 for each $2 win wager — not bad money on a horse whose trainer has now won half of the last 14 runnings of Monmouth's biggest race.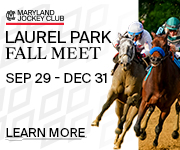 And then there's Dr. Bill Solomon, the veterinarian who stands Bayern's sire, Offlee Wild, at his Pin Oak Lane Farm near New Freedom, PA.
"Oh, my God!" a joyful Solomon said by phone in the aftermath of the race.  "Are you kidding?"
He, like almost everyone else, was concerned that Bayern might not handle the nine-furlong distance of the Haskell.  His two prior tries at similar distances — in the Grade 1 Arkansas Derby and the slightly longer Grade 1 Preakness — had not ended particularly well.  But Sunday was, well, a different day.
"When he got to the quarter pole, it was pretty obvious," Solomon said.  "He wasn't stopping."
Yet Solomon, who started Pin Oak Lane in 1973, said that he didn't scream and shout, or jump up and down, while watching the race.
"I like to act like maybe it's happened before," he said with a chuckle.
Which, in truth, probably isn't that difficult.  You see, it has happened before, is happening right now.
Indeed, three of what used to be called "Win and You're In" races for November's Grade 1, $5,000,000 Breeders' Cup Classic have been contested so far this year — and, remarkably, all three have been won by horses sired by Pin Oak Lane stallions.
In June, the suddenly very good Moonshine Mullin won the first of those Challenge races, taking the Grade 1 Stephen Foster at Churchill Downs.  Moonshine Mullin is a son of Pin Oak Lane's stallion Albert the Great.
Two weeks after that, Majestic Harbor, a son of late sire Rockport Harbor, took the Grade 1 Gold Cup at Santa Anita (formerly the Hollywood Gold Cup).  Rockport Harbor was, like Offlee Wild, a Darley-owned horse standing at Pin Oak Lane.
And now Bayern.
No wonder Solomon describes himself as "very blessed."
When Offlee Wild came to Pin Oak Lane, Solomon said he had an inkling something big could happen.  "He's a physical horse that's pretty impressive," he said.
He also believed that Offlee Wild's crop of horses that would be two-year-olds of 2013 — the crop of which Bayern is a member — might be the best book he'd bred.
"I felt he had the chance to pop," the vet said.
That approach has been central to Solomon's strategy with a number of stallions over the years.  While some breeding operations tend towards trying to make young, unproven sires into stars, Solomon believes that's difficult in the mid-Atlantic.  Regional stallions typically breed smaller books of lower quality mares, making it hard to get the top horses that can make a stallion.
"I like to take horses who stood at major farms and bred large, quality books," he said.
Of course, that in itself isn't enough.  The horse also has to have demonstrated the ability to get a runner.
"As you go back a bit, this isn't the first good horse [Offlee Wild] has had," he pointed out.  Among the others are Eclipse champion juvenile filly She Be Wild.
As evening descended on Pennsylvania, in the aftermath of a big day, Solomon grew reflective.  He remembered friends in the industry, like Darley's Charlie Boden, who'd helped him out over the years, from his earliest days up to today.
If racing is a game, it's a long game.  It takes something of a cockeyed optimist to survive, a particular, peculiar way of looking at the world.
"That's the secret," Solomon said.  "You stay around long enough, you give yourself a chance of good things happening."