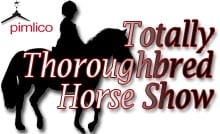 From a Maryland Jockey Club release
Terry West rode 27 winners as a jockey from the late 1970's to late 1980's but the Washington D.C. native is well known in the Mid-Atlantic show jumping world. On Sunday, the 58-year old will be prominent at the Totally Thoroughbred Horse Show in the Pimlico Race Course infield.
"I rode show races even before I came to the racetrack," West said. "I never really left. I would gallop horses during the week and show on the weekends. It is a lot of fun and I love the competition. I started when I was four or five years old and I have another 50 years left."
The event is the brainchild of Georganne Hale, the Maryland Jockey Club's racing secretary, and Adena Springs Retirement Program manager Stacie Clark-Rogers. Part of the Thoroughbred Alliance Show Series (T.A.S.S.), the Totally Thoroughbred Horse Show is one of a handful of shows for Thoroughbreds where each horse shows under its Jockey Club name. Traditional show horses have their names altered often when they change owners or circuits.
Last year, West won the Open Jumper Division with Unmistaken Rhythm.
"We just call him Happy and he will be back to defend his title," added West. "I really want to be peaking for this show. It is fun riding on the infield. It is like the old Maryland Pony Show they had years ago at Timonium. This one reminds me a lot of that one."
Nearly $15,000 in prize money will be paid to the owners of the first three finishers in each class (60%-winner; 30%-second place; 10%-third) and six ribbons will be awarded for each of the 16 classes. Hale has added eight classes this year, including the $5,000 Gambler's Choice where horses earn points by jumping as many fences as possible during a 40-second period. The bigger the fences the more points earned.
"Terry loves the jumper classes and I expect her to be one of the favorites," Hale said. "She will be fun to watch in the Gambler's Choice."
The Totally Thoroughbred Horse Show judges will be Rodney Jenkins, Steuart Pittman, Lenny Hale and Wendy Davis.
"It was so fun to ride in the jumper class in front of Rodney Jenkins," West said. "The highlight of my career is winning in front of him because he was the best that ever was."
Jenkins dominated the American show ring in the 1960s, '70s and most of the '80s, and retired as the sports winningest rider. The 70-year-old was inducted into the Show Jumping Hall of Fame in 1999. He won more than 70 grand prix classes, rode on ten winning Nations Cup teams from 1973 to 1987 and earned two silver medals in the 1987 Pan American Games as a member of the U.S. Equestrian Team. Since 2000, he has been a Laurel Park-based trainer.
West galloped horses at the Maryland tracks and rode races from 1977-87. Her best year was 1981, when she was victorious six times from just 14 mounts. She never had more than 72 runners in any calendar year.
"I liked riding," West said. "I loved breaking out of the gate and it was really fun to cross the finish line first. It was fun winning but I like riding the show horses much more than the race horses though I did learn a lot riding the race horses that I have brought back to show horses. I learned how to manage horses better when they have problems."
The show begins at 8 a.m. Eastern. The inaugural event featured nearly 800 entries. A year ago, almost 400 entries with 140 Thoroughbred horses participated.
"The first year was awesome, seeing that many horses," West said. "Even with all those entries, it was run very well. I am really excited. The Thoroughbred show at Pimlico has become my favorite event of the year and not just because I won last year. The whole atmosphere is fun."
Hale has taken 370 entries as of Tuesday morning, including 12 from West and two-time defending overall champion Houston. The three most successful former runners are Malibu Kid, who finished in the money 27 times in 36 lifetime starts with earnings of $313,900 and multiple stakes winners Forest Park (13-for-36 with $486,230 in earnings) and Delaware River (19-of-83 for $715,760).
"Delaware River was a war horse. He raced for 10 years and is still able to have another career," added Hale. "Billy Campbell had him for most of his career. His assistant Jessica Lindsey loved the horse. When he was retired she got him and has been working with him. This is his first show so we will probably just see him in the walk trot. It will be interesting to see what happens when he sees the racetrack and all the other horses."
All the 2014 proceeds will go to two local Thoroughbred aftercare programs: Foxie G Foundation (www.thefoxiegfoundation.org/) and Mid-Atlantic Horse Rescue (www.midatlantichorserescue.org/). Since 2012, Pimlico's Totally Thoroughbred Horse Show has raised more than $23,000 to benefit Thoroughbred Aftercare organizations.
The sponsors for the Totally Thoroughbred Horse Show include A&C Stables, Brittingham Racing, Chesapeake Coffee, Children's Colonial Trunk Show, Claiborne Farm, Country Life Farm, Dana Point Farm, Dark Hollow Farm, Exacta Business Solutions LLC, Hillwood Stable LLC, Holly Robinson Racing, Keller Williams Realty Group, Marquetta Pisarcik, Maryland Horse Breeders Association, Maryland Thoroughbred Horsemen's Association, Maryland Vet Group, Next Car, Offtrack Products, PTK LLC, Take2-NYTHA, The Jockey Club-TIP, Thoroughbred Aftercare of Gulfstream, Vina Del Mar Racing & Kid Cruz, Winner's Circle Partners and Xpressbet.
"Phoebe Hayes (Maryland Jockey Club Director of Horsemen's Relations) has done an incredible job of getting every class sponsored," Hale said. "She was also able to get a stud service to Wise Dan's father for the Rafflepallozza, which is unbelievable. We have plenty of prizes for fans who are coming out Sunday."
Prize packages included signed merchandise and promotional materials featuring Kentucky Derby (G1) and Preakness Stakes (G1) winner California Chrome.
(Featured image, of Terry West at the 2013 Totally Thoroughbred Horse Show, by Jim McCue, Maryland Jockey Club.)