The Racing Biz has been tracking claiming activity in the mid-Atlantic region and reporting on it weekly for the last several months, in our Claimbox report.  We continue that, along with our Midlantic Claiming 7 — the trainers who have been busiest over the prior 30 days, ending in this case on July 1, 2014

Claiming activity plummeted back to earth following a year-long record week.  But that didn't slow down Patricia Farro, who claimed four more horses during the week to maintain a clear lead atop the Midlantic Claiming 7 list of the trainers who have claimed the most horses in the last 30 days.
Farro has claimed 15 horses in the last 30 days — seven more than any other trainer in the mid-Atlantic.  The value of those horses — $238,000 — is more than $100,000 higher than the value of any other trainer's claims.  The average value of her claims ($15,867), however, is just third; Scott Lake (average of eight claims: $16,375) and High McMahon (six for $16,167) rank one-two in that category.
McMahon was the list's only newcomer this week.  He replaced Juan Vazquez on the ranking.
Farro and David Jacobson led trainers in the region by the number of horses claimed away from them; each has lost eight via the claimbox, one more than Jorge Navarro and Hugh McMahon.  That left Farro with a net gain of seven horses for the month, one more than Michael Pino, who claimed eight and lost two.  Jacobson, with just one claim in the region to offset the eight horses he lost, had by far the highest net loss of horses.
[table id=63 /]
For the week…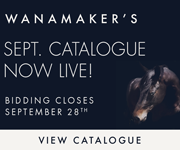 One week after more than $1 million of horses changed hands in the region, the numbers tumbled back to earth this week.
Overall, just 43 horses were claimed in the region, the lowest number in two months.  Likewise, the total value of those claims — $526,250 — was also the lowest in two months.  The average, at $12,238, remained strong, however.
Monmouth Park led all regional tracks by the number of horses claimed, the value of those claims, and their average value.  The Jersey Shore track saw 17 horses claimed worth $264,000 for an average of $15,529.  It was the region's only track to see more than eight horses change hands via the claimbox.
The claimbox report covers claiming activity at Parx Racing, Penn National, Charles Town, Monmouth Park, and Delaware Park.
Weekly Dollar Value of Horses Changing Hands