From a Maryland Jockey Club release
Houston will look to make it three consecutive overall titles at the Totally Thoroughbred Horse Show at Pimlico Race Course on Sunday, July 13.
The event is the brainchild of Georganne Hale, the Maryland Jockey Club's racing secretary, and Adena Springs Retirement Program manager Stacie Clark-Rogers. Part of the Thoroughbred Alliance Show Series (T.A.S.S.), the Totally Thoroughbred Horse Show is one of a handful of shows for Thoroughbreds where each horse shows under its Jockey Club name. Traditional show horses have their names altered often when they change owners or circuits.
Owned by Donna Sullivan and ridden by her daughter Megan, Houston, 14, has been a fixture on the Maryland show circuit for years.
"People have been reminding me of it (three-peat)," Donna Sullivan said. "He is a wonderful horse and we have a lot of fun with him. I always say if he doesn't win another ribbon that would be okay. I bought him at the Mid-Atlantic sale in 2001, brought him home, gelded him and let him grow up. I realized he was not going to be a race horse. He is not very big (just over 15 hands). When he was four years old he was the Zone champion in the USEF (United States Equestrian Federation). He has won a lot. Last year, Megan was best adult rider in the Chester County (PA) Horse Show with him. He is a very sweet horse who is easy to ride. He has been high point horse in both Baltimore County and Harford County."
Houston has edged Testimonially, with rider Kara Evans, for top honors both years.
"Megan's best friend is Kara," added Sullivan. "His (Testimonially) show name is The Patriot and he is a fabulous horse. Kara has had him for just about as long as we have had Houston. Jack Settings trains The Patriot and also trained Houston at one time. I credit a lot of what those horses have been doing to him. Both girls are great riders and Jack was very instrumental in helping both girls."
Nearly $15,000 in prize money will be paid to the owners of the first three finishers in each class (60%-winner; 30%-second place; 10%-third) and six ribbons will be awarded for each class. The Totally Thoroughbred Horse Show, which begins at 8 a.m. Eastern, will include 16 classes. The inaugural event featured nearly 800 entries. A year ago, almost 400 entries with 140 Thoroughbred horses participated.
"We have added eight classes this year," Hale said. "There will be a Green division for horses who have not been off the racetrack for an extended period and a Hunter division for horses who have been showing all along. So it gives the horses in the Green division some class relief. We are also adding two additional jumping classes. In the Gambler's Choice, we will have horses jumping as many fences as possible in a 40-second period. The bigger the fences the more points they score, so it will be really exciting. We added another lead line to the program. We are calling it the AARP division for riders 60 and above. We have a lot of mothers and grandmothers excited about that one."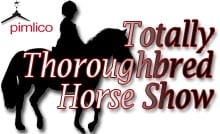 All the 2014 proceeds will go to two local Thoroughbred aftercare programs: Foxie G Foundation (www.thefoxiegfoundation.org/) and Mid-Atlantic Horse Rescue (www.midatlantichorserescue.org/). Since 2012, Pimlico's Totally Thoroughbred Horse Show has raised more than $23,000 to benefit Thoroughbred Aftercare organizations.
"I do all the foaling for Country Life Farm so it is important to support the Thoroughbred industry," Sullivan said. "The women that put this show on do a great job. The first year was very overwhelming but  that just shows the need for something like this and how great it is for these horses to have a second career. Not all of them are going to be great race horses and some of them just don't make it to the races. Either they don't have the speed or don't want to run so this is a great opportunity for those horses."
The sponsors for the Totally Thoroughbred Horse Show include Chesapeake Coffee, Children's Colonial Trunk Show, Claiborne Farm, Country Life Farm, Dana Point Farm, Dark Hollow Farm, Exacta Business Solutions LLC, Hillwood Stable LLC, Holly Robinson Racing, Marquetta Pisarcik, Maryland Horse Breeders Association, Maryland Thoroughbred Horsemen's Association, Next Car, Offtrack Products, PTK LLC, Take2-NYTHA, Terese Brittingham, The Jockey Club-TIP, Thoroughbred Aftercare of Gulfstream, Winner's Circle Partners and Xpressbet.