by Frank Vespe
Safely Kept stopped here en route to the Hall of Fame.
So did Declan's Moon,  before going on to win an Eclipse Award as champion two year-old and more than $700,000.
Urbane detoured here before winning the Grade 1 Ashland and more than $1 million.
As did two horses — Oliver's Twist and Magic Weisner — who ran second in the Preakness. And, and, and…

"Here" is the Maryland Horse Breeders Association (MHBA) Yearling Show, which yesterday was held for the 80th time, at the Timonium Fairgrounds.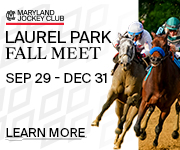 And while the numbers aren't what they once were — 80 were entered — they are trending up, said MHBA Executive Director Cricket Goodall.
It's an act of faith, breeding a Thoroughbred.  By the time you cross off the horses that, for one reason or another, don't make it to the track and those that do but are too slow, you're left with a paltry 50 percent (or so) that actually win a single race.  And an even smaller number go on to win a second.
Still, like all acts of faith, breeding a Thoroughbred is also, at its core, an act of optimism.
The cynic might call it whistling past the graveyard, this cockamamie notion that the genetic prize wheel might stop spinning on the foal you bred.
But an optimist — which is to say, everyone who breeds horses — will point out that it stopped on California Chrome, whose story, unlikely as it once seemed, is still being written, two Classic victories and $3.5 million in earnings later.
And so to yesterday's show, a first chance to measure one yearling against his or her generation.  For some, the next measuring stick will come in the sales ring; for others, on the racetrack, and the Yearling Show also carries with it $40,000 in additional awards to those horses entered in the show that earn the most money on the track as juveniles and as sophomores.
The show is divided up into four classes — colts/geldings and fillies, sired by Maryland-based stallions and sired by out-of-state stallions.
Entry 60 — a filly by Pure Prize out of the graded stakes winning Not for Love mare He Loves Me — was the grand champion.  She was bred and is owned by David and JoAnn Hayden's Dark Hollow Farm, and her win marked the second time in three years the Haydens had taken Class IV (fillies sired by out-of-state stallions) with a daughter of Pure Prize out of a Not for Love mare.
The first of those, Bread and Butter, has won two of three starts in her career, the lone defeat being a fifth place finish behind Dream Spinner, most recently third in the Grade 3 Iowa Oaks.
There might not have been an Eclipse Award winner, or a Hall of Famer, in yesterday's group.
But then again, there might be, and that uncertainty is what's kept 'em coming back for 80 years now.