In a result sure to be cheered by racing interests, Anthony Brown, the current Lieutenant Governor of Maryland, has won the Democratic nomination for Governor.
Brown, aiming to be the Free State's first African-American governor, won about 51 percent of the vote in a three-way primary according to The Washington Post.  Attorney General Doug Gansler was second, with about 24 percent, just ahead of Delegate Heather Mizeur.
Because about twice as many Marylanders are registered as Democrats versus Republicans, and because only one Republican, Robert Ehrlich, has ascended to the top spot in the last 45 years, the race for the Democratic nomination is widely considered to be the real election.
Brown will face the Republican nominee, Harford County Executive David Craig, in November's general election.
Brown, who says that he once worked as a hotwalker at Aqueduct, attracted substantial support from the state's racing interests for a couple of reasons.

For one thing, the administration of Governor Martin O'Malley has been considered friendly to racing interests, and Brown is seen as likely to carry on that legacy.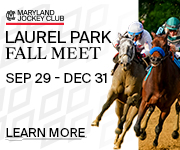 For another, Brown's running mate is Howard County Executive Ken Ulman, whose father, Lou, is a racehorse owner and longtime member (and former chairman) of the state Racing Commission.
Finally, last October, Gansler proposed reducing racing's share of slot machine revenue to pay for his plans to expand early childhood education.  Under the Gansler proposal, the amount of money targeted to racing and breeding would be capped at $50 million — more than the sport currently receives but less than it is expected to receive under current law in the coming years.  The current law caps racing's share of slots revenue at $100 million.
On Tuesday, Brown won 19 of Maryland's 23 counties, as well as Baltimore City.  Gansler won three counties — Carroll, Cecil, and Queen Anne's — and Mizeur won Kent County.