The United States Supreme Court today declined to hear a sports betting case that New Jersey governor Chris Christie had hoped would allow the Garden State to offer sports wagering.
That action leaves in place a federal ban on sports wagering that exempts Nevada and a handful of other states, including Delaware, that had allowed wagering prior to a deadline set in federal law.
After New Jersey voters had in 2011 approved sports wagering in a non-binding referendum, state lawmakers passed a law allowing sports gambling at racetracks and casinos.
State racing interests endorsed the legislation, seeing it as a way to provide additional revenues to the purse account and to help revitalize Monmouth Park and other tracks.  Bookmaker William Hill has already opened a sports bar at Monmouth, in  hopes of converting it to a sports book.
But the law ran afoul of the federal Professional and Amateur Sports Protection Act (PASPA), passed in 1992, which prohibits wagering on professional and amateur sports, except in Nevada, Delaware, Montana, and Oregon, all of which had allowed sports wagering at some point prior to PASPA's passage.

All of the major professional leagues in the US, plus the National Collegiate Athletic Association, lined up to oppose New Jersey's law, arguing that allowing sports wagering could lead to corruption in their sports and undermine public confidence in the integrity of the games.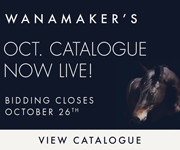 Christie and New Jersey countered that an estimated $500 billion is illegally wagered on sporting events and that it would be better for the state to capture a share and regulate the gambling.
After the state had failed at the trial level, a divided panel of the appeals court ruled that "New Jersey's sports wagering law conflicts with PASPA and, under our Constitution, must yield."

New Jersey state senator Ray Lesniak, who sponsored the now-failed gambling legislation, told the nj.com that he was not yet done, adding, perhaps quixotically, "I plan on placing my first bet at Monmouth Racetrack on Sept. 8 for the Giants to beat the spread against the Lions on 'Monday Night Football.'"
(Featured image, of William Hill CEO Joe Asher, by Bill Denver/EQUI-PHOTO.)