by Jeff Nations
Horse racing is never more popular in the Mid-Atlantic than the middle of May. And as Pimlico recovers from Saturday's running of the Preakness Stakes — attended by a record crowd of over 123,000 — the sales staff at Fasig-Tipton Midlantic are putting the final spit and polish on one of their crucial annual events. The Fasig-Tipton 2-year-olds in training sale is scheduled for May 19-20 at the Maryland State Fairgrounds in Timonium where between 400 and 500 juveniles could pass through the sales ring.
With so many horses available, the two-day sale might well have something for just about any budget.
"This sale and this catalog probably has something for everybody," said Fasig-Tipton Midlantic sales manager Paget Bennett, "from the mom and pop owners who want to buy to people who want to put together partnerships."
It's no coincidence that the Fasig-Tipton sale comes so closely on the heels of the Preakness, either. Bennett said the hope is that many of the leading trainers visiting Baltimore for this weekend's second leg of the Triple Crown will stick around for a visit to Timonium next week.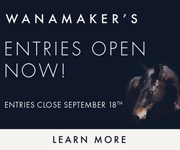 "We usually see a lot of the trainers out here on Sunday morning after the Preakness," Bennett said. "We're hoping our catalog and the history of this sale will bring them back."
That catalog featured a group of 580 juveniles representing nearly all the nation's leading sires. Bennett, who spent two long days watching those runners up close at this week's under-tack show, thinks the sale has a strong chance of continuing an upward trend in average prices. Last year, 249 horses sold netted a total of more than $16 million, with an average price of $66,968. That was up considerably from 2012, when the average on 312 horses sold was just $53,593. Buyers will be looking for the next Xtra Heat — the 25-time stake winner who sold for just $5,000 at this sale — or two-time Breeders' Cup champ Mizdirection, another Fasig-Tipton Midlantic grad.
"We have a very nice group, very athletic," Bennett said. "And they're good performers on the track. That's what we saw at the under-tack show."
A pair of relatively modestly bred colts consigned by Crane Thoroughbreds posted the fastest breeze time for one furlong during Thursday's second session of a two-day under tack show previewing the sale.  Both Kowboy Nowboy (Hip 292) — a son of Kodiak Kowboy out of Leading Role, by Demaloot Demashoot — and Shining Steel (Hip 343) — by Exclusive Quality out of the winning Capote mare Miss Cap — zipped a furlong in 10 seconds flat.
Hip 455, a Kentucky-bred and Breeders' Cup nominated son of Desert Party, clocked the fastest quarter-mile breeze (21.1 seconds), also on Thursday. The gray or roan colt, out of Satinet (by Olympio), is part of Desert Party's first crop of foals and one of six by that sire slated for the Fasig-Tipton sale. Desert Party, a 2009 Kentucky Derby starter, won 6-of-10 career starts including the Sanford Stakes (Grade 2). Satinet has been extremely productive, birthing two stakes winners and two other stakes-placed horses among her eight offspring to race.
One sire not represented at Fasig-Tipton's 2-year-old in training sale is California-based Lucky Pulpit. His offspring might have garnered some extra attention, especially coming on the heels of his son California Chrome's Preakness triumph. Still, California Chrome's pedigree has some representation here; his dam, Love the Chase, is a daughter of Not for Love, the longtime top mid-Atlantic sire standing at Maryland's Northview Stallion Station.  He has sired 73 black type winners among his 16 crops including eight graded stakes winners. Four Not For Love-sired 2-year-olds are listed in the Fasig-Tipton catalog.
One of the more intriguing pedigrees on offer is that of Hip 13, a colt by Tapit out of the winning War Chant mare Wild Chant.  Wild Chant was a modestly successful race horse, earning $67,000 — but she's a half-sister to Grade 1 winners Paddy O'Prado (who earned $1.7 million in his career) and Untapable (who recently won the Grade 1 Kentucky Oaks).  Like Untapable, Hip 13 is by top sire Tapit.
Irish-bred stallion Street Cry, high on the leading sires list and boasting an incredibly productive string of progeny including the legendary Zenyatta and current million-dollar runner Cat O'Mountain, has a chestnut colt (Hip No. 397) up for sale. Out of the unraced Saint Ballado mare  Pinafores Pride, the colt is a full brother to Canada-based and two-time graded stakes-winning colt Southdale.
Fans of Kentucky's Spendthrift Farm-based Malibu Moon will have their pick of his foals in the two-day sale, with 15 of his progeny listed in the Fasig-Tipton catalog. That's the most of any sire listed, with the late Harlan's Holiday (died in 2013) next with 14 foals in the sale. Many of the juveniles up for sale are returnees to Timonium, having been sold there as yearlings with the intention of coming back for this season. Bennett said such pinhooked juveniles make up the majority of the Maryland- and Pennsylvania-breds in the catalog.
The Fasig-Tipton Midatlantic 2-year-olds in training sale is set for May 19-May 20 at the Maryland State Fairgrounds in Timonium, Md. Sales begin at 10 a.m. both days.