From a Maryland Jockey Club release
Another planeload of Preakness contenders is slated to arrive on Wednesday, and the last pieces of the puzzle bill be filled in Thursday morning.
For now, roughly half the Preakness field is on the Pimlico grounds.
One of those, Kentucky Derby (G1) winner California Chrome, made his first visit to the track at Pimlico Tuesday morning.  It was more about getting acclimated to the home of the Preakness Stakes than exercise.
[boxify cols_use ="3″ cols ="6″ position ="right" order="none" box_spacing ="5″ padding ="3″ background_color ="gray" background_opacity ="10″ border_width ="1″ border_color ="blue" border_style ="solid" height ="725″ ]
PREAKNESS POSSIBLES at a GLANCE

California Chrome — Derby winner had a "great" jog at Pimlico, seems to like the Baltimore surface
Ride on Curlin — 7th place Derby finisher galloped 1 1/8 miles at Pimlico Tuesday
Pablo Del Monte — Trainer Wesley Ward's charge "went beautifully" in in 1 1/2 mile gallop at Keeneland
Dynamic Impact — Nose winner of G3 Illinois Derby galloped Tuesday and will visit the starting gate Wednesday
Bayern — Baffert trainee had a visit from jockey Rosie Napravnik, who'll have the mount Saturday
Social Inclusion — Longest-tenured resident of Pimlico stakes barn jogged the morning after a solid half-mile breeze, "ate up everything," says trainer
Kid Cruz — Tesio winner arrived at Old Hilltop Monday evening, galloped Tuesday
Ring Weekend — Motion trainee galloped 1 5/8 miles at Fair Hill, aiming to become eighth Preakness-winning gelding
Ria Antonia — Filly breezed a mile at Churchill Downs, will have services of Calvin Borel, who rode Rachel Alexandra, in attempt to reprise that one's 2009 Preakness triumph
General a Rod — Galloped 1 1/2 miles at Pimlico, where he "really seems to like it," says trainer Mike Maker[/boxify]
Exercise rider Willie Delgado took the big chestnut out for a tour of the one-mile course at 6:45 a.m., approximately 16 hours after he arrived at the Preakness Stakes Barn on a trip from Louisville, Ky.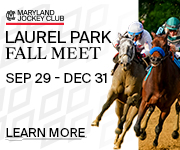 "He jogged and he was great," said assistant trainer Alan Sherman, who has managed the horse since the Derby while his father, Art, has tended to the rest of his stable in Southern California. "He stood out there for a while, just looked around and took it all in. He's a really curious horse. He likes to look around a lot and check out the surroundings. He was good. He was really good."
Alan Sherman said the colt has settled in nicely in Stall 40, traditionally the Pimlico home of the Kentucky Derby winner. The next step, Sherman said, was to let the horse check out the track while he was stretching his legs and getting a feel for the surface.
"Yeah, just let him look around," Alan Sherman said. "When he gallops, I want him to be focused on what he's doing and not be looking around and stub his toe or anything."
Art Sherman, 77, was scheduled to arrive from California Tuesday afternoon and will be at Pimlico when California Chrome returns to the track at 6:45 Wednesday morning.
"He is enjoying the ride immensely," Alan Sherman said, "but he's not a young guy and was getting a little tired toward the end of all that. He's fresh now."
California Chrome's emergence from promising young horse to the leader of his division with his resounding Derby victory has put the Shermans in the spotlight. Art Sherman has spent 60 years in the business as a stable hand, exercise rider, jockey and trainer. Alan Sherman works for his father and his brother, Steve, is a trainer in Northern California. The Sherman family is enjoying its ride with California Chrome.
"It's pretty awesome," Alan Sherman said. "Every year when you get the 2-year-olds in you're saying, 'maybe this will be the one that will get us to the Derby,' but we've been saying that for a lot of years now and we finally made it. It's really special."
California Chrome, bred and owned by Steven Coburn and Perry Martin, brings a five-race winning streak into the Preakness, but he wasn't an overnight sensation. He won two of his first six starts, most of them races against other California-bred horses before he stepped forward.
"In the King Glorious, the last stake at Hollywood Park (Dec. 22), that opened my eyes up. Then he just kept getting better," Alan Sherman said. "Then he won the California Breeders' Derby and that was another impressive race. But the San Felipe (G2) was probably when I went, 'wow.' It was the first time against open company and he just broke two in front and won so easy that day. I was pretty excited about that one."
After the San Felipe, California Chrome won the Santa Anita Derby (G1) by 5 1/4 lengths, a performance that made him the Derby favorite. His victory at Churchill Downs on May 3 made Art Sherman the oldest trainer to win the Derby and punctuated a solid career.
"My dad is so deserving of it," Alan Sherman said. "He works hard. He goes to the sales and buys horses himself and claims horses with his own money. He puts up his own money. He deserves it."
Having prevailed from the 19-horse Derby, in which several participants ran into traffic, California Chrome and jockey Victor Espinoza move to the Middle Jewel of the Triple Crown, a slightly shorter test at 1 3/16 miles with 10 likely starters.
"You're not going to get the traffic problems, hopefully," Alan Sherman said. "You can get in traffic problems in a four-horse race, but it's not 20, by any means. And he's got enough turn of foot. All Victor has to do is squeeze on him a little bit and he can keep himself out of trouble."
When someone asked him what the worst possible scenario might be, Alan Sherman grinned and said, "Losing." Sherman understood that the question was about race dynamics and quickly said the colt's versatility would enable Espinoza to ride the race as it develops.
"If they go too slow in front, he'll take it right to them and push the horses in front of him. If they are going fast in front, he can just sit off the pace," he said. "That's the good thing about him – that he doesn't have one style of running. He's pretty push-button. If you ask him he'll do it."
BAYERN – Kaleem Shah's Bayern walked the shedrow at Barn 33 at Churchill Downs and received a visit from jockey Rosie Napravnik Tuesday morning.
Never worse than third in four career starts, Bayern had worked five furlongs in company Monday with Napravnik up in 1:02 3/5.
"He came out of the work fine and we are ready for Baltimore," said Jim Barnes, assistant to trainer Bob Baffert.
Bayern, along with Preakness hopefuls Dynamic Impact and Ria Antonia, is scheduled to be loaded onto a van at 10:30 Wednesday morning for the short ride to Louisville International Airport to make a Tex Sutton charter flight to Baltimore scheduled to arrive at Baltimore-Washington International Airport in early afternoon.
DYNAMIC IMPACT – It was back to business Tuesday morning for John Oxley's Illinois Derby (G3) winner Dynamic Impact.
With exercise rider Marco Cano aboard, Dynamic Impact was on the fast track at Churchill Downs to gallop 1 ½ miles. Dynamic Impact had worked five furlongs on a track labeled as "good" in 1:01 3/5 Sunday and walked the shedrow Monday.
Assistant trainer Norman Casse indicated that Dynamic Impact would visit the starting gate Wednesday as part of his morning routine.
Dynamic Impact will be ridden in the Preakness by Miguel Mena, who rode the Tiznow colt for the first time in the Illinois Derby.
In that race, Dynamic Impact eventually wore down 2-5 favorite Midnight Hawk, winning by a nose with the third-place horse 8 ½ lengths back.
"He is a classy horse," Mena said of what will be his initial Preakness mount. "Those kinds of horses dig in and don't like to get beat.
"He's a fighter, but he doesn't like to be inside. At the half-mile pole (in the Illinois Derby), I was able to pull him out (from the rail) and he found another gear. He fought so hard until he got the job done."
GENERAL A ROD – Trainer Mike Maker was on the scene Tuesday morning for General a Rod's first trip to the racetrack at Pimlico Race Course, supervising the colt's 1 ½-mile gallop under exercise rider Joel Barrientos.
"He really seems to like it here," said Maker, the former D. Wayne Lukas assistant who is preparing his first Preakness runner. "He likes that big stall. He's all sprawled every time I've seen him. Last night and this morning he was in the same spot, sprawled out and relaxed."
The son of Roman Ruler is in the same location that trainer Doug O'Neil's Kentucky Derby and Preakness winner I'll Have Another occupied two years ago at the rear of Barn D. Maker said he's hoping to glean some of that good fortune for the Gulfstream Park Derby winner.
Maker has had much more tangible exposure to Preakness success, having served alongside Lukas for more than a decade from 1993 to 2003, when the Hall of Famer won the Middle Jewel of the Triple Crown with Tabasco Cat (1994), Timber Country (1995), and Derby winner Charismatic (1999). General a Rod wasn't quite as successful in Louisville, finishing a troubled 11th.
"I didn't think he had a fair shake," said the 45-year-old Michigan native. "He had a rough trip and didn't get to run his race. He came out of it well and with high energy. It's the Preakness … we might as well give it another shot."
General a Rod was a model of consistency before the Derby, never off the board in his first five starts, including a head defeat in the Fountain of Youth (G2) and a 1 ½-length setback in the Florida Derby (G1) at Gulfstream in his final prep. Skychai Racing and Starlight Racing purchased the colt only days before the Kentucky Derby from J. Armando Rodriguez.
General a Rod has impressed his trainer with his consistency through his sophomore season.
"He's been exactly the same," Maker said. "Obviously he needs to get a little better, but, knock on wood, he's had a string of great days for a long time."
KID CRUZ – Assistant trainer Samantha Randazzo supervised a routine gallop for Kid Cruz in the colt's first trip over the Pimlico racing strip Tuesday morning shortly after 6:30 a.m.
Trainer Linda Rice is scheduled to be on hand at Pimlico for Wednesday's post-position draw for the Preakness.
"He got in last night at about 8 o'clock and had a nice mile-and-a-half gallop this morning over the track," Rice said by phone from her Belmont Park base.
Rice said she plans to gallop the colt the rest of the week and plans to school him in the paddock sometime on Thursday.
Julian Pimentel, who has been aboard a pair of ungraded stakes victories by Kid Cruz in Maryland, will also be going for his first Preakness victory in only his second mount. He finished 11th with Norman Asbjornson in the 2011 edition.
Rice, representing Vina Del Mar Thoroughbreds, claimed Kid Cruz from Hall of Fame trainer Bill Mott for $50,000 off his maiden-breaking win on dirt at Aqueduct on Nov. 13. Mott had tried the son of Lemon Drop Kid on grass in his first start with no success before making the surface switch to dirt. Rice was paying attention.
"I spoke to the connections and we decided to put in the claim," said Rice, who was the first female to ever win a training title at Saratoga Race Course in 2009. "I really liked his conformation and the way he moved."
After closing to finish second in an allowance at Aqueduct on Jan. 26 to begin his sophomore season, Kid Cruz was shipped to Laurel and rewarded his connections with a resounding four-length victory in the $100,000 Private Terms.
The Wood Memorial was next on Kid Cruz's schedule but he couldn't make the race, so Rice opted to aim for the Preakness. He prepped for the Middle Jewel of the Triple Crown with another easy victory in the Federico Tesio at Pimlico on April 19.
"He's stepping up in class considerably," said Rice, who is preparing to saddle her first Preakness starter. "His numbers aren't as good as most of the horses in the field, so we know he'll have to step up in this race, but we're excited to give him the chance. He deserves it."
PABLO DEL MONTE – Trainer Wesley Ward reported Tuesday that Pablo Del Monte had a good and uneventful morning of training at Keeneland.
"We galloped a mile and a half," Ward said. "Everything went beautifully."
Pablo Del Monte debuted with a victory in April 2013 and won his next start, an allowance race at Keeneland in October. Ward moved him into stakes company, where he has been competitive but winless in four tries. Pablo Del Monte set the early pace in the Blue Grass Stakes (G1) and finished third, 3 1/2 lengths behind Dance With Fate.
Ward decided to skip the Kentucky Derby after the colt drew into the field from the also-eligible list and was assigned Post 20, opting to focus on the Preakness. Pablo Del Monte will be Ward's third Preakness runner.
"He's certainly ready," Ward said.  "He worked 1:10-and-change last week and he came back with a 1:12 1/5 on Saturday. He's had the spacing between the Blue Grass and the Preakness now. If ever you'd want to take on a Kentucky Derby winner it's when he's coming back on short rest, like these two weeks.
"My colt's got speed and historically, for Aloma's Ruler and horses like that, speed has been to their advantage and they have taken it from gate to wire. There have been a lot of gate-to-wire winners. Everything is kind of coming together right now and I really don't want to change anything. That's why I kept the horse here until Wednesday. Everything is looking great."
Ward had originally planned to ship Pablo Del Monte to Baltimore from Lexington, Ky, on Wednesday, but switched up and said he would put the colt on a Monday charter. However, he reversed himself Monday and went back to the original schedule.
Jeffrey Sanchez will ride Pablo Del Monte in the Preakness Stakes.
RIA ANTONIA – Christopher Dunn and Loooch Racing Stable's Ria Antonia, jogged a mile under exercise rider Maurice Sanchez shortly after the track at Churchill Downs opened at 6 o'clock Tuesday morning.
Winner of the Breeders' Cup Juvenile Fillies (G1) via disqualification last fall, Ria Antonia is scheduled to gallop in the morning before heading to Baltimore.
Ria Antonia would be the first filly to run in the Preakness since Rachel Alexandra won the race in 2009 with Calvin Borel aboard. Borel will ride Ria Antonia on Saturday.
RIDE ON CURLIN – Trainer Billy Gowan took a very active role in Ride On Curlin's morning activities at Pimlico Tuesday. After leading the son of Curlin out to the track for a vigorous 1 1/8-mile gallop under exercise rider Bryan Beccia, Gowan walked his Preakness hopeful in the shedrow and assisted in the bath and the grooming of the star of his four-horse stable.
"It looked like he got over it (the track) perfect to me," said Gowan, whose colt shipped into Pimlico from Kentucky Monday afternoon. "Every track he's ever been on he's gone over good. This one looks just like the rest of them, really good. I was really happy."
The son of 2007 Preakness winner Curlin had an eventful trip from Post 18 in the Kentucky Derby under Calvin Borel, ultimately passing seven horses in the stretch to finish seventh behind California Chrome. Gowan decided to switch riders to Joel Rosario for the Preakness.
"If we can get a clean trip, we'll just see," said the 48-year-old Louisiana native. "California Chrome is an awful nice horse. I'd just like a clean trip and see what the horse is really made of. I thought it'd be our day in the Derby; maybe it'll be our day in the Preakness."
Ride On Curlin won an allowance race in the first start of his 3-year-old campaign at Oaklawn Park. He went on to finish third in both the Southwest and Rebel, before running a solid second in the Arkansas Derby (G1) and heading to Kentucky.
Last season he set a track record at Ellis Park while breaking his maiden at 5 ½ furlongs, but owner Daniel Dougherty turned down a $1 million offer to sell the colt.
Rosario will be the fourth jockey for Ride On Curlin in six races this season.
"I don't think it's the jockey," Gowan said. "All these jockeys are trying to win. They want to win races just like I do. It's just racing luck and circumstances. He's (Rosario) a really strong finisher on a horse, and it's going to take a really strong finisher to beat California Chrome and all these horses. They're all nice horses."
Ride On Curlin is scheduled to breeze  "an easy half-mile" Wednesday morning.
RING WEEKEND – St. Elias Stable and West Point Thoroughbreds' Ring Weekend galloped 1 5/8 miles under Alice Clapham Tuesday morning at Fair Hill Training Center in Elkton, Md.
The 3-year-old son of Tapit is scheduled for a quest to become the eighth gelding to win the Preakness Stakes, from which geldings were barred from 1920 through 1934.
Ring Weekend was gelded following his 2-year-old campaign, in which he finished third twice in three starts.
"He was quite a tricky horse to be around. We also felt that perhaps he was showing more in the morning than he was in the afternoon. It gave us reason to think there was more there and perhaps getting his mind more focused would help," trainer Graham Motion said. "Also, he had one testicle that was not properly descended. We had in the back of our minds that it could be bothering him."
Ring Weekend made a good showing in his 2014 debut, finishing second in a Gulfstream turf race on Jan. 18, before breaking his maiden on dirt on Feb. 8.
"The first time we ran him he was still green, a little cheeky, perhaps, when he ran on the grass at Gulfstream that day. The second time he really put it together. That was a big transformation for him," Motion said. "Even this morning, we were commenting on what a different horse he is in the morning and how he is a more professional workhorse. I think it's an ongoing thing for him."
Ring Weekend followed up his maiden victory with a triumph in the Tampa Bay Derby (G2) and a second-place finish in the Calder Derby. The Kentucky-bred gelding was knocked out of a trip to the Kentucky Derby by a fever that cost him a few days of training. He showed no ill effects from the fever last Saturday, when he breezed six furlongs in 1:13 1/5 before galloping out a mile in 1:41 at Fair Hill.
Funny Cide was the last gelding to win the Preakness in 2003, following up his Kentucky Derby victory with a 9 ¾-length romp in the Middle Jewel of the Triple Crown.
SOCIAL INCLUSION – Rontos Racing Stable Corp.'s Social Inclusion jogged once around the Pimlico racetrack under exercise rider Domingo Navarro Tuesday on the morning after turning in a sharp 47-second half-mile workout in preparation for Saturday's Preakness.
"He is feeling good. He ate up everything," trainer Manny Azpurua said. "I really think he is going to run a big race."
Azpurua is greatly encouraged by the way Social Inclusion has trained over the Pimlico surface since arriving from Gulfstream Park on Thursday.
"After his work, he came back with his head up and looking around. Sometimes after a work, horses that are tired will drop their heads. He was looking around. It was like he did nothing," said the 85-year-old native of Venezuela who has been training in South Florida since 1979.
The son of Pioneerof the Nile also pleased his trainer during his trip to the track Tuesday morning.
"My main concern is if there is rain for Saturday, but I believe he'd handle it," Azpurua said. "I think the track will be nice either way. I like the racetrack here."
Social Inclusion, who has worked on a wet track at Gulfstream, has excelled in three starts on fast tracks, winning his first two starts by a combined 17 ½ lengths before setting the pace  into deep stretch during a third-place finish in the Wood Memorial (G1) on April 5.
Having lost an automatic berth in the Kentucky Derby when nosed out of second in the Wood, Social Inclusion was on the outside looking in when entries were taken for the Run for the Roses. His connections opted not to enter him to be included in the also-eligible list. He was entered in the Sir Bear Stakes at Gulfstream on Derby Day, but he was scratched due to a bruise in his right front foot.
"I worked him the way he worked (Monday) because I lost the chance to run him (May 3)," Azpurua said. "I'm very happy with him."