From a Maryland Jockey Club release
Edgar Prado took his first steps toward the Hall of Fame with a decade of dominance on the Maryland circuit and has been no stranger to Pimlico Race Course since he left in 1999.
Prado makes another return to Old Hilltop on Friday as the sentimental favorite in the $50,000 Xpressbet Hall of Fame Jockey Challenge, which brings together seven of the eight active Hall of Fame riders in head-to-head competition.
One of the most decorated riders in Maryland history and a 2008 inductee to the Hall of Fame, Prado is joined on the elite roster by Russell Baze (1999), Mike Smith (2003), Kent Desormeaux (2004), John Velazquez (2012), Calvin Borel (2013) and Alex Solis (2014).

Desormeaux is another local fan favorite and a previous Pimlico jockey challenge winner who won nine riding titles and a pair of Eclipse Awards during his time in Maryland from 1987-89.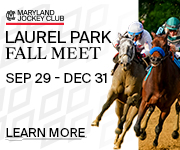 "I think it's a great idea," Prado said. "It's going to be a great event. Hopefully, a new generation of horse lovers and bettors will have a chance to see a group of jockeys that have already made history in the racing books."
Friday's 13-race card is highlighted by eight stakes including the $500,00 Black-Eyed Susan (G2) for 3-year-old fillies and the $300,000 Pimlico Special (G3) for older horses; as well as the fifth and final edition of Lady Legends for the Cure presented by Wells Fargo, a pari-mutuel race featuring eight retired female riding pioneers.
In the challenge format, riders will earn points for finishing first (12 points), second (6), third (4) and fourth (3) in four designated races: the second, fourth, sixth and eighth. The jockey with the most points at the end of the competition will be crowned champion and take home top prize of $20,000. Other prize money is $10,000 for second, $7,000 for third, $4,000 for fourth, $3,500 for fifth, $3,000 for sixth and $2,500 for seventh.
This is the sixth year for a jockey challenge at Pimlico on the Preakness eve card. Desormeaux beat three others to win in 2009 and finished second to Javier Castellano in an eight-rider group in 2010.
Switched to an all-female format, the challenge was won by Emma-Jayne Wilson in 2011 and local favorite Rosie Napravnik in 2012. Wilson repeated her victory last year, when the challenge was tweaked again for a 'Battle of the Sexes,' featuring four male and female riders.
The Xpressbet Hall of Fame Jockey Challenge brings together a group that has won 44,857 career races and more than $1.6 billion in purse earnings through May 13, including 20 Triple Crown races, 41 Breeders' Cup races and nine Eclipse Awards for riding success.
"To get us all in one spot at the same time is going to be pretty unique, I think," Baze said. "It should be a lot of fun riding with those guys. I've been with most of them at one time or another and I'm really looking forward to it."
Prado, 46, finished second in last year's jockey challenge. He has 1,220 wins and $21.4 million in earnings from 5,988 lifetime mounts at Pimlico.
"I've been to jockey challenges in Japan and Hong Kong and it's definitely nice to participate among the best riders in the world," Prado said. "The most important thing is we try to educate people that it takes more than to just get on a horse and go around. It takes a lot of work and dedication to achieve all the things you do in your career."
Prado won the Kentucky Derby in 2006 with Barbaro, who broke down after leaving the gate of the Preakness and never raced again, ultimately succumbing to his injury. He has 6,705 career wins including two Belmont Stakes and four Breeders' Cup races.
Based primarily in New York, Prado spends his winters at Gulfstream Park in south Florida. He had two winners there on Sunday in his second day of riding since returning from a fractured C-7 vertebra suffered in a training accident at Keeneland on April 10.
"I'm feeling great. Fortunately, I heal pretty quick and I had a lot of good people working with me in my recuperation," Prado said. "Maryland has been great to me from the first day I rode there in 1989. I met a lot of great people. I was riding all the right horses and trying to make the best of my opportunity. It was a very good time there and I'm very grateful for that.
During his time in Maryland, Prado led the country in wins from 1997-99 with a total of 1,408 and his 536 in 1997 made him just the fourth jockey in history to reach 500 victories in a calendar year. He has yet to win the Preakness, Pimlico's signature race, in 14 tries.
"The only thing that I want to do and I hope I can do before I retire is to win the Preakness," he said. "It's a very prestigious race. I think it would be a nice gift for a lot of my fans that have followed me through the years."
While Prado is a familiar face in Maryland, the 55-year-old Baze has only ridden twice in the state since his career began in 1974, both times at Laurel Park. He is the all-time leader among North American riders with 12,253 victories to go along with nearly $190 million in purses.
"I thought I had ridden there quite a while back but I must be confusing it with Laurel," Baze said. "I'm going to thoroughly enjoy myself coming back there. I'm really looking forward to getting back and seeing Baltimore, and having a good time."
Based at Bay Meadows and Golden Gate Fields in Northern California, Baze has reached 400 single-season wins 13 times in his career, including a string of seven straight years from 1992-98. He earned a special Eclipse Award in 1995 for being the first jockey to hit the 400 mark four straight years.
"I'm extremely blessed, to be able to ride for as long as I have without having any kind of serious injuries," Baze said. "Just the accumulation of races year after year after year, I don't realize it at the time when I'm doing it. It's only when I look at the total tally that I realize, 'Hey, we've won a lot of races.'"
Desormeaux, 44, has 648 wins and $11.7 million in purse earnings from 2,855 career mounts at Pimlico. Overall, he has 5,548 lifetime wins including the Kentucky Derby three times, the Preakness twice and one Belmont Stakes, and more than $248 million in purses.
Smith, 48, has won two Eclipse Awards, 5,170 races and $252.5 million in purses over a career that includes one Kentucky Derby, one Preakness and two Belmont Stakes victories in addition to a record 20 Breeders' Cup wins.
Velazquez, 42, has won the Kentucky Derby once and the Belmont Stakes twice, been voted a pair of Eclipse Awards and earned more than $302 million in purses to go along with 5,132 career wins.
Borel, 47, won the Kentucky Derby three times in four years with Street Sense (2007), Mine That Bird (2009) and Super Saver (2010), and captured the 2009 Preakness on filly Rachel Alexandra. He has topped 5,000 wins and $123 million in career purses.
Solis, who turned 50 in March, will be formally enshrined in the Hall of Fame in August. He is closing in on 5,000 career wins including the 1986 Preakness with Snow Chief. His 21-year-old son, Austin, recently joined the jockey colony at Pimlico.