by Jim Hague

It's safe to say that everyone involved in the horse racing business in Pennsylvania will hope to forget the winter months of 2013 into 2014.
"This winter has been brutal," said Todd Mostoller, the executive director of the Pennsylvania Horsemen's Benevolent and Protective Association (HBPA), which represents horsemen at Penn National and Presque Isle Downs. "This is the worst one we've had in a long time."
"It's been a killer," said trainer Michael Aro, who has a stable of horses housed at Parx Racing outside Philadelphia. "It's put a damper on us pretty good."

And it's not just the frigid temperatures and the high snow accumulations.  Horsemen at Parx have had to deal with two outbreaks of equine herpesvirus (EHV-1) that have placed a quarantine on horses leaving or entering the facility.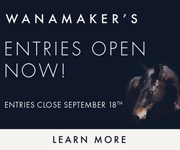 The first outbreak was determined by track veterinarians back in November, causing the quarantine to be put into effect.
Then just when the problem was believed to be solved in January, another case was discovered February 14, forcing Parx to place a quarantine once again, one that will remain in place until March 18 at the earliest.
"It's been terrible, because we can't go anywhere," said Aro, who has at least 14 horses affected by the quarantine. "We're limited to small fields and small purses. I figured it has cost us about $500,000 in purses. But there's not much you can do about it. I tell people all I can do is go home and have a slice of pie. It's just one of those things. It's like getting struck by lightning."
Aro has a 7-year-old filly named Winning Image, whom he'd pointed to the $300,000 Grade II Barbara Fritchie at Laurel Park.  He had to scratch because of the quarantine.  "We missed that one," Aro said. "That would have been a good opportunity for her. She has been on the top of her game."
Aro will now point to a $100,000 stakes race at Pimlico April 19.
"We're doing the best we can, but it's been terrible," Aro said.
Mostoller, who is also a horse owner besides representing Pennsylvania horsemen, said that the quarantine has hurt racing throughout the state.
"Not having Parx available to ship horses impacts everyone," Mostoller said. "It definitely hurts business in the entire mid-Atlantic region and hurts in all aspects. It hurts your ability to maximize your earning potential. You only get certain conditions (in races) every so often. I commend those who have taken their lumps. It's not easy overcoming those losses. Not all horse owners are millionaires, like most people tend to think."
Mostoller remembers an outbreak of EHV-1 that led to several horses having to be euthanized about five years ago.
"It's a very dangerous situation," Mostoller said. "From a horseman's standpoint, it's nice to have options available where you can ship your horses to. All of the tracks utilize shippers to maximize cards. When you removed some of the spokes from the wheels, it also hurts the other tracks."
Chris McErlean is the corporate vice president of racing operations at Penn National Gaming, which owns both Penn National and Charles Town in West Virginia. McErlean has also noticed a drop off in the number of available horses since the quarantine was enforced.
[pullquote]I tell people all I can do is go home and have a slice of pie. It's just one of those things. It's like getting struck by lightning." —
Trainer Michael Aro
[/pullquote]
"We do get a fair amount of shippers from Parx and we do have people who ship back and forth, so this certainly hasn't helped," McErlean said. "Racing superintendents have found it short in the entry box."
The weather has also been a culprit. Parx was closed because of weather-related conditions for eight straight days at one stretch. Penn National didn't race once from Feb. 2 through Feb. 20.
"We've actually cancelled more than we raced in the month of February," McErlean said. "Charles Town has also had a similar experience. Winter racing is always tough to begin with, but when you add the extreme cold, it makes it tougher, even for around here. You might catch a break for a day or two, but maintaining a dirt track is tough with the snow melting and then it freezes again at night. Challenging is the most appropriate word to use."
"This winter has been very hard on horsemen, because when horses are not running, they're not earning," Mostoller said. "Penn National has cancelled 17 times this winter. That's brutal. The cold weather is also rough on the horses. Then, when you do run, it's not the best of conditions."
The horsemen all hope that there is light at the end of the tunnel — or at the very least, some warm sunlight.
"March 18, this (quarantine) will be over and we'll be as free as a bird," Aro said. "We'll spring ahead like the clocks. In just a few days, we'll be all right."
"Hopefully, we've all turned the corner and we can look toward spring," McErlean said. "We have the Penn Mile coming up."
That race is slated for May 31. Hopefully, the snow will be totally melted by then.
Despite the trials and tribulations, the horsemen remain optimistic.
"It's been tough on all of us, but we all stick around the sport for a reason," Mostoller said.
Truer words have never been said. It's all for the love of racing.  Or the pie.