by Frank Vespe
[boxify cols_use ="2″ cols ="5″ position ="right" order ="none" box_spacing ="5″ padding ="3″ background_color ="gray" background_opacity ="10″ border_width ="1″ border_color ="blue" border_style ="solid" height ="340″ ]
Champions Top 10
James Staub
Andy Andrews
Mark Blair
Brenda Brie
Robert Weir
David Picarello
Alexander Bertram
Sam Wayson
Oneil Doran
Robert McCluskey
Note: Top finisher wins a spot in the Breeders' Cup Betting Challenge, while second and third finishers go to the Horse Player World Series.[/boxify]
It was midway through Saturday's Champions Handicapping Contest at Laurel Park, and "Action Andy" Andrews was wandering.
He was upstairs, talking to friends in the press box.  He was downstairs, watching a race with the simulcast players.  He was outside, watching a race from the apron.
What he was not doing was hanging around the Carriage Room, where the tournament took place.
Not because it was too crowded, however.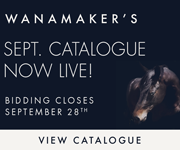 Though the tournament sold out — and went "really well," according to the Maryland Jockey Club's Diana Harbaugh — there was plenty of room to spread out.  With a maximum of 250 entries, and players allowed to have two entries, a room which seats 400 or so for dinners and events was plenty big enough for the handicappers present.
In fact, that space — and the cap on entries — were the talk of the town, or at least, the room.
"Don't get me started," Andrews growled when asked about the 250-entry limit.
Berkley Kern — a farrier, sometime trainer, and bettor — on the other hand, was only too happy to get started.
"They should open it up to more people," he said.  "They should chase people in; don't chase them out."
What if it gets too crowded?  I wondered.
Kern laughed.  "These are gamblers," he pointed out, "and gamblers don't care if they're sitting in a ditch as long as they're gambling."
As for contest strategy, Kern had a two-part approach.  "Build a bankroll up and go in on one horse close to the end [of the tournament]," he outlined.
Dylan Smith, Dickie Small's assistant trainer, was sitting nearby; she concurred.  "Go all in on one horse," she said.
That wasn't exactly Andrews' approach, but it wasn't far off.
[pullquote]"These are gamblers, and gamblers don't care if they're sitting in a ditch as long as they're gambling." —
Berkley Kern
[/pullquote]
He used his early plays — players must make a minimum of 10 wagers with a minimum value of $20 each — to make show bets that helped build his nest egg.  He went all in on Diversy Harbor, who won the China Doll at Santa Anita and paid $7.20 doing it.
Then he wagered most of his newly enhanced bankroll on Big Macher, in the San Carlos at Santa Anita, to place.  Big Macher did — missing the win by a half-length, but just a head clear of the show horse.  He paid $9.40 to place, taking Andrews up to $2,820.40 on the day — good for second place and a trip to Las Vegas.
"Get through the mandatories [mandatory wagers] to the two or three horses you really like," explained Andrews, of his strategy.  "And then you bet them — you really bet them."
He had crafted his strategy — one that's worked well enough to send him to Las Vegas more than once and differs from many players who, he pointed out, "think they're going to pick eight or nine winners" — with his friend John Scheinman, who was sitting next to him.  "We both liked the Proctor horse [Diversy Harbor]," Andrews explained, "and kinda talked about it early on."
The game plan didn't pan out quite so well for Scheinman, however.  While Andrews' other big play, Big Macher, did his part, Scheinman's second horse scratched out.  That forced him to change horses in midstream, so to speak.
He tried, he said, "to seize the tournament" early on with a longshot play.
How'd the longshot do?
That question reminded Scheinman of a story the late boxing writer Bert Sugar had told him.  It seems that onetime welterweight champ Fritzie Zivic had taken a fight in Mexico.  No one back home knew what happened in the fight.
"When he returned to the gym," Scheinman continued, "reporters surrounded him.  'How'd you do in the fight?' they asked.
"He looked around and said, 'I run second.'"
Not good enough in a boxing match, or when your only wager is win.
But not so bad when second prize involves a trip to the Horse Player World Series in Vegas.