If it's true that numbers don't lie, they're not telling a very rosy story about Thoroughbred racing thus far in 2014, according to Equibase figures.
Through two months of 2014, the wagering and purses are both down versus 2013 — and 2013 was hardly a banner year itself.  Overall, the number of race days is slightly behind where it was a year ago, while purses and wagering are more than two percent behind last year's pace.
Those results came after a difficult February in which many Eastern tracks lost numerous days to bad weather and poor track conditions.  As a result, race days — that is, actual race cards — declined just more than five percent, spearheading a 4.1 percent drop in wagering and a 5.7 percent drop in purses.
Still, it wouldn't be right to place all of the blame for the decline on the weather.  Overall, through two months the number of race days in 2014, 586, is very nearly equivalent to the 588 run through two months of 2013.
Both wagering and purses to date are off nearly 2.2 percent from a year ago.  On a per-card basis, average wagering of $2.72 million is 1.85 percent behind last year's average of $2.77.  Purses are down by a similar amount, to a bit less than $221,000 per card.

Since wagering reached its high water mark of more than $15 billion in 2003, total wagering on U.S. races has dropped nearly 40 percent.  A one percent increase in wagering in 2012 snapped a run of five consecutive years of declines.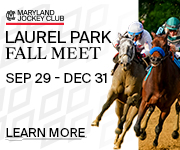 The numbers include worldwide commingled wagering on U.S. races.
FEBRUARY ECONOMIC INDICATORS
YEAR-TO-DATE ECONOMIC INDICATORS