The Racing Biz has been tracking claiming activity in the mid-Atlantic region and reporting on it weekly for the last several months, in our Claimbox report.  We continue that, along with our Midlantic Claiming 7 — the trainers who have been busiest over the prior 30 days, ending in this case on February 4, 2014.
Claiming activity continued to hold steady — five straight weeks with between 38 and 43 claims — and there was minor shuffling but no significant change in our Midlantic Claiming 7 list of the busiest trainers.
Scott Lake maintained the top spot on the Claiming 7 for the third consecutive week.  He claimed nine horses in the last 30 days at the region's tracks, with a combined value of $116,500 (average: $12,944).  That put him three claims ahead of Patricia Farro, who retained the second spot for the second straight week.  Ferris Allen, who dropped from third to fifth on the list with four claims, had the highest average value per claim among the top 7, at $15,125.
Ramon Preciado (four claims for $60,000) was the only newcomer to the list, while Jamie Ness dropped off.
Lake also repeated atop the list for net gain in horses and dollar value.  He lost three horses via the claimbox during the month, leaving him with a net gain of six with a combined increase in value of $88,500.  Farro, who lost two, was also second in net gain in both measures, adding four horses worth a combined $56,000.  Michael Pino, third on the list with five claims in the last 30 days, lost more horses than any other trainer in that period, eight with a combined value of $77,500, leaving him with a net loss of three horses.  Jamie Ness also experienced a net loss of three horses, as he lost six versus the three he added.

[boxify cols_use ="4″ cols ="4″ position ="none" order ="none" box_spacing ="5″ padding ="3″ border_width ="1″ border_color ="blue" border_style ="solid" height ="60″ ]
[/boxify]
For the week…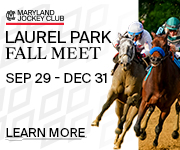 Weather continued to wreak havoc on the region's racing schedule, and cancellations meant that the region ran 12 cards for the week.  Claiming activity was essentially flat.
Forty-two horses changed hands via the claimbox — one fewer than last week.  But the average value of those claims grew about five percent, leading to a 2.7 percent rise in the total value of claimed horses.  The 42 claims grossed $415,000, an increase of $11,000 from the prior week.
Laurel and Parx shared the top spot for claiming activity.  At each track 14 horses changed hands, with the horses at Laurel worth a combined $167,000 (average: $11,928), easily higher than the gross of $116,500 (average: $8,321) at Parx.
The claimbox report covers claiming activity at Laurel Park, Parx Racing, Penn National, and Charles Town.
Weekly Dollar Value of Horses Changing Hands