Maryland racing analyst Gabby Gaudet has thoughts on a Jackpot Pick 5 on this afternoon's card at Laurel Park!

JACKPOT PICK FIVE

Laurel Park has a Jackpot Pick 5 beginning with race 5.  Post time for the fifth is 2:28 p.m.
Gabby's Selections


Race 5 – 1, 6, 8
Race 6 – 1, 4, 5, 6

Race 7 – 1, 6, 7
Race 8 – 1, 3
Race 9 – 1, 7
Wager cost: $72 ($0.50 unit)
Gabby says….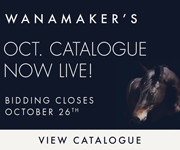 "I think the entry of Political Miss and Michelle's Trip is going to be tough in this first race, an open $8,000 claimer.  But I really do like #8 Printasticat in here.  She's making her first start off the claim for Juan Vazquez.  He's been ridiculously successful recently with horses making their first start for him off a claim, and I think stretching back out to the one-turn mile will really help this horse.
"In the sixth, a conditioned $35,000 claimer, I do really like the #1 horse, Avarice.  I think he ran huge last time out, when he won easily against $15,000 horses, and this is his first start after being claimed by Jerry Robb, another trainer who does well with newly claimed horses.  I'm a little concerned about the post position — he's down on the rail, and all the winners the other day came from outside — but I think there's enough speed here for him to get a good setup, a good pace to run at.  That said, my top pick in this very tough race is #6 Speightful Kiss.  He's showing a couple of sharp works since his last race, and I think his tries on the main track are really good.
"In the seventh, a $5,000 conditioned claimer, I really like both of Kieron Magee's horses; he has an uncoupled entry here with #6 Cherylwithans and #7 Oxford Lass.  I think they both rate a big shot.  The one thing that gives me pause is that Kieron's been a little bit cool in 2014 — just one win from 14 starts so far.  As a result, I'm backing his horses up with King Leatherbury's coupled entry.  In particular, I'm hoping that #1 Princess Appeal can come back to her better form, when she was beating up on these kinds of horses.
"The featured eighth is a second-level allowance/optional claimer, and I don't want to overthink this race.  If he runs — he's also entered at Aqueduct on Monday — #1 Dawly will be really, really tough.  But I'm not confident enough in him to single him.  I do also like #3 Irish Lion in here.  I think he likes this one-turn mile trip, and I thought his last race was better than it looks.
"I really like the #1A Hard Drive in the ninth — and yes, it is my family's horse.  I think he'll like stretching out to this 1 1/16 mile distance, and he's getting a little bit of class relief, which should help.  Still, I'm pretty scared of #7 Wildhaassseee here, who seems to love this distance and just beat these kinds of horses in his last race.
"Good luck!"
(Featured image, of Ben's Cat, by Laurie Asseo.)
[boxify cols_use ="4″ cols ="4″ position ="none" order ="none" box_spacing ="5″ padding ="3″ border_width ="1″ border_color ="blue" border_style ="solid" height ="60″ ]
[/boxify]