From a Maryland Jockey Club release
Konrad M. Wayson's Joint Custody overcame a stumbling start and survived a heated duel down the backstretch before galloping to victory in the $100,000 Maryland Juvenile Championship.
Wesley Ho was aboard the son of Outflanker, who completed the seven furlong distance in 1:25.19 and won by 5-1/2 lengths. After Joint Custody put away Open the Bank nearing the far turn and turned back Fran's Buckaroo around the turn, Ho gave him his head and they steadily pulled away. Buck n' Ham Lane finished third.
Joint Custody was the overwhelming favorite in the field of six after program favorite It's A Bang scratched this morning. He paid $2.60.
The John Robb trainee is now four for six lifetime after winning two stakes in a row and Robb is now 18 for 45 during the meeting.
"You're always a little concerned when you see them stumble but it might have been a blessing in disguise," said Robb. "This horse does not like being on his own. He's difficult to work because he just doesn't want to focus without other horses right with him all the time. The minute he gets a little in front he gets lazy. I was looking for him to improve today and he certainly ran well, but he doesn't even look like he's moving that fast. I give Wesley a lot of credit for keeping him busy. We'll give him a bit of a break but we've got to keep an eye on him. He doesn't get that much out of training so we don't want to go too far in the other direction."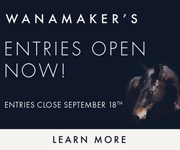 "He stumbled pretty badly at the start but he got his feet right back under him and got right back into it," said Ho. "We schooled him with dirt being kicked on him and he did fine so we would have been okay if we were a little behind. I didn't have to ask him at all. He knew what to do and he did it easily. I'm sure he can go farther because he does it so easily."
(Featured image courtesy of the Maryland Jockey Club.)
[boxify cols_use ="4″ cols ="4″ position ="none" order ="none" box_spacing ="5″ padding ="3″ border_width ="1″ border_color ="blue" border_style ="solid" height ="60″ ]
[/boxify]