by Frank Vespe
"It was," said Dickens, "the spring of hope, it was the winter of despair."
He was not, though he could have been, talking about the relative fortunes of racing in Maryland and Virginia this week.  Indeed, the differing prospects of the two neighboring states could not have been more starkly drawn than they were this week.
On Wednesday, the Virginia Racing Commission — in something of a Dickensian outcome — awarded Colonial Downs 25 days of racing spread over five weeks next year — twice as many days and one more week than the track had requested, but fewer days and three fewer weeks than the horsemen wanted.
In the spirit of compromise, that made no one happy.  "Everyone didn't get what they wanted," Colonial's Ian Stewart told our Nick Hahn (here), which is a slightly roundabout construction meaning: No one got what they wanted, and no one's very happy about it.

Colonial has a problem, which doesn't seem likely to get better any time soon.  The track is hard to get to, occupies a fun but unfortunately not very popular racing niche (cheap grass racing), and exists to no small extent on a business model that, in theory, couples a money-losing live product with a money-making string of off-track wagering facilities.  The problem: no one goes to OTBs anymore.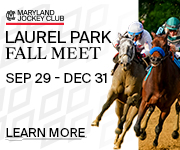 What's more, at a time when having slot machines or other alternative gaming to bolster purses is de rigeur, Colonial has neither and, most observers seem to believe, no real prospects of getting them soon.
Chalk Virginia's winter of despair up to the usual racing problem: money.
[boxify cols_use ="4″ cols ="4″ position ="none" order ="none" box_spacing ="5″ padding ="3″ border_width ="1″ border_color ="blue" border_style ="solid" height ="60″ ]
[/boxify]
In an odd twist, money is relatively more plentiful in Maryland these days, and the Maryland Jockey Club (MJC) announced yesterday that it would share some with what figure to be well-heeled visitors and their Preakness starters.  The purse of the Preakness, steady at $1 million since 1998, will rise by 50 percent in 2014.  That will put it ahead of the Triple Crown's third leg, the Belmont, the purse of which is $1 million, though it will still trail the Kentucky Derby's $2 million on offer.
It will also allow the Preakness to reclaim the mantle (technically, the co-mantle?) of the mid-Atlantic's richest race, which it ceded last year to the Charles Town Classic.  In 2014, both events will carry a $1.5 million purse.
"There's no secret here," MJC president Tom Chuckas said on a conference call.  "The Preakness is the premier event [in Maryland racing], and this is another step in elevating the event."
Nor was it secret that there is, at long last, more money in Maryland racing to spread around.  The infusion of slots revenue in the last year-plus has seen to that, and the available funds figure to grow as new casinos come on line, first in Baltimore and then in Prince George's County.
What elevates the announcement into "spring of hope" territory, however, isn't money; it's the way that Maryland's racing stakeholders have joined hands and begun belting out Kumbaya.
"The more the horsemen, the breeders, and the track can work together," said Chuckas, "it's better for everybody."
"We're trying to work together to build Maryland racing," echoed Maryland Thoroughbred Horsemen's Association executive secretary David Richardson.
Of course, money matters here, too, and Richardson was quick to point out that overnight purses figure to remain strong for the foreseeable future, making it easier for local horsemen to support a Preakness purse increase that most likely will enrich their out-of-state counterparts.
"It was a very good move by the Maryland Jockey Club," added Racing Commission chair Bruce Quade, after that body had hurriedly approved the request.  "I think this underlines Maryland's commitment to the Triple Crown, and I applaud the move by the Maryland Jockey Club, the Maryland Thoroughbred Horsemen's Association, and the rest of Maryland racing."
Which means, if you're keeping score, that everyone in Maryland likes and agrees with everyone else.
In a state where for years every racing negotiation turned into a kind of ritualized bloodletting, that might be the most surprising development of all.  Call it, in the spirit of another Dickens novel, a Christmas miracle.
(Featured image by Laurie Asseo.)