There are 6,404 reasons that King Leatherbury should be in the Hall of Fame; that's the number of wins the octogenarian trainer has recorded in his magnificent career.
Perhaps, though, his training efforts with Ben's Cat make the strongest case.  For one thing, Ben's Cat is a son of Parker's Storm Cat, and if you put all the good sons (and daughters) of Parker's Storm cat together in the paddock — well, you probably couldn't fill a race.  Fact is, Ben's Cat is pretty much the whole list.
For another, there are the horse's well-documented mishaps — in particular, the broken pelvis he suffered as a juvenile that delayed his racing debut until his four year-old season.  Once he started running, however, he's done almost nothing but win: 23 times in 35 starts, with career earnings of nearly $1.7 million.
Because he hasn't run in the Breeders' Cup — he wasn't nominated as a foal, and it turns out that those "Win and You're In" races really mean, for horses not nominated, "Win, Pay 100 grand, and You're In" — he may not entirely have received his due.  But make no mistake: Ben's Cat belongs in the front rank of American turf sprinters.
King has a decision to make with Ben, and he'll make it later today: which Maryland Million race to enter?  Ben had won the last two turf sprints, but that race has been mothballed.  Instead, he's cross-entered to the Sprint and the Turf — and both figure to come up pretty tough.

The video below is a little Ben and a lot of King, following Ben's win in the Laurel Dash last month.  The horse he beat in that race, Mr. Online, returned to be second in last week's Grade 1 Nearctic at Woodbine.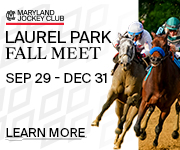 (
Featured image by Laurie Asseo.)