[boxify cols_use ="5″ cols ="5″ position ="left" order ="none" box_spacing ="5″ padding ="5″ border_width ="2″ border_color ="blue" border_style ="solid" height ="90″ ]
Breeding news sponsored by…
[/boxify]
New sires fared well during the just completed Fasig-Tipton Midlantic Fall Yearlings sale, as did — not surprisingly — dams with some black type attached to their names.
In the days leading up to the sale, The Racing Biz profiled the sale's new sires (here) and those dams that had either earned black type themselves by winning or placing in stakes races or had produced offspring that had done so (here).  Both groups found fertile ground in the one-day event.
The nineteen new sires represented accounted for 54 hips sold, with an average of more than $28,500 and a median of $18,500.  Both numbers compare favorably with those of the sale as a whole — $25,847 and $17,000.  Of course, the biggest contributor to those high totals was Quality Road, whose three hips included the $250,000 sale-topper and two other solid sellers.
The other high sellers from new sires included hip number 65, a Warrior's Reward filly whose dam is a half-sister to Grade 1 winner Borrego; she went for $75,000.  Both of Discreetly Mine's offspring sold well, with hip 171 fetching $60,000.  And Majesticperfection's three hips included a son of Elusive Royalty, who is a full sister to Grade 2 winner Royale Michele, who also brought $60,000.

The two new sires with the largest number of offspring in the sale were both Maryland sires standing at Northview Stallion Station: Bullsbay and Street Magician.  More hips by Street Magician — 11 — sold than by any other new sire.  The average for his offspring was just shy of $16,000, with the topper a $33,000 filly out of the Partner's Hero mare What Am I Gonna Do, who is a half-sister to two stake winners.  Bullsbay's seven hips sold brought an average of a little over $23,000.  His topper, a colt out of the stake-winning Orientate mare Welcome Inn, cost $38,000.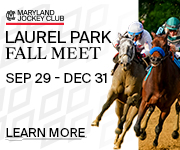 Our group of "running dams" produced 78 horses sold yesterday.  Their average price was more than $29,000, with a median of $22,000.  The topper for that group was the second-highest seller in the sale, a colt by Tiz Wonderful out of the stakes-producing Dixie Union mare Memories of Mystic; he brought a high bid of $175,000.
NEW SIRES